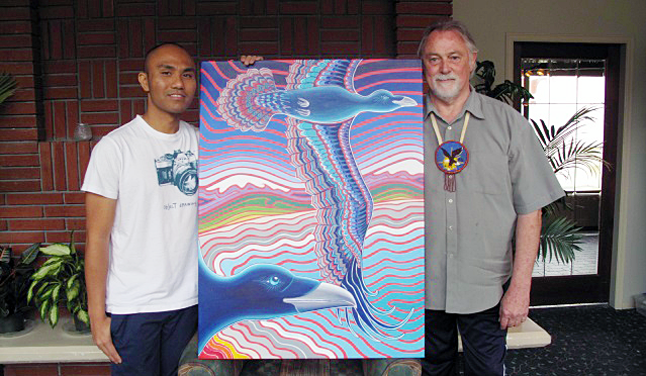 By Laura Stovel
The bright colours and mythical themes of Karie Garnier's large canvases contrast with the disturbing story of oppression on the northern Filipino island of Fuga that has become his life's work. Yet the two are closely intertwined.
The island of Fuga, which is "about 20 miles across," has been the home of Ilocano people since at least the colonial era, Garnier said. The Ilocano people are the third largest ethnolinguistic group in the Philippines. Population and other pressures in the mid-19th and early 20th century led many to migrate to other Filipino islands and even to Hawaii and California.


Those who settled on Fuga Island lived off the land and the sea. They buried their ancestral remains in burial jars around the island. Their situation began to change in the 1960s when their beautiful island attracted the attention of Filipino dictator Ferdinand Marcos who built a secret home there, staying there off and on throughout his presidential rule from 1966 to 1986. As he and his close friends gradually occupied more of the island, they alienated the local Ilocano people from the land, Garnier said.
Once Marcos left, the land was transferred to real estate developers while the local people were denied basic infrastructure, health care and land rights. It is Garnier's mission to document the conditions of the Ilocano inhabitants of Fuga and help bring them medical services and land rights. He plans to use his art and videography skills to do that.
Garnier said he first was led to Fuga as the result of a spiritual quest which showed him that he had a mission on the other side of the world. He later visited Fuga with his Filipino wife who had ancestors on the island. He feels a strong family and spiritual link to the island as "my two children are half Fugacano," he said.
What he saw during his first visit shocked him. On the surface this was an island paradise but infant mortality rates are 50% or higher and many people were suffering from malnourishment and parasites. "I returned and started making videos of the splendor of the island but also the oppression. They had been brutally, brutally oppressed for decades," he said.
Garnier arrived in Revelstoke from Chase earlier this week with his collaborator, Manuel Falcon Padua, and a car full of paintings. He is considering staying in Revelstoke for a month or more while he and Padua work on a crowd-sourcing campaign to produce a documentary on the situation in Fuga. "We want to launch the campaign from Revelstoke. I think this is the place to do it. I really do." They have been looking into using the new coop office space and are now looking for a place to rent while they work.
Garnier and Padua met when Padua was doing community work in Los Angeles. Although Padua is also an artist – a graphic artist – he brings his community organizing and marketing skills to the team. Padua was drawn to the project both because of its humanitarian mission, but also because his interest in Filipino ancestral traditions. As he started to work with Garnier, he learned about the ancestral burial jars and this also drew his interest. "There lie burial jars all over the island which pretty much connects the Philippines to the origins of human life," he said.
Garnier and Padua will be working intensively on the project but they are also eager to discuss their work with any group or individual who is interested. The Friends of Fuga Facebook page can be reached by following this link.

Please click here to learn more about Fuga and the other Babuyan Islands.