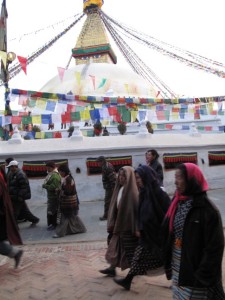 By Laura Stovel
Many people in Revelstoke have spent happy times hiking in the mountains of Nepal or marvelling at the ancient monuments and temples of the country. Every one of them would have spent time in Kathmandu and walked through the congested, narrow streets of the tourist district, Thamel, browsing through the jam-packed bookshops and enjoying shops full of inexpensive hiking gear and beautiful, hand-made souvenirs.
Today the Kathmandu Valley, with a population of just over 2,500,000 people is in disarray as a result of a 7.8 magnitude earthquake that hit the region. More than 2,000 people have been confirmed dead, according to media reports, and the toll of destruction is expected to be much higher as emergency crews try to reach more remote villages affected by the quake.
For those worried about friends or family living in Nepal, Facebook has set up a page called Safety Check where you can see if Facebook friends have been confirmed to be safe.  This social media site was launched to assist with locating loved ones caught in disaster situations. Using this tool I learned that 11 of my 13 Facebook friends in the area have been confirmed safe.
Facebook founder Mark Zuckerberg announced the launch of Safety Check in October 2014, writing: "Over the last few years there have been many disasters and crises where people have turned to the Internet for help. Each time, we see people use Facebook to check on their loved ones and see if they're safe. Connecting with people is always valuable, but these are the moments when it matters most."
"Safety Check is our way of helping our community during natural disasters and gives you an easy and simple way to say you're safe and check on all your friends and family in one place."
Please click here to see the  Safety Check for the Nepal earthquake.