By Rana Nelson

If you were at the Mount MacPherson trails on Saturday, you might have thought a KISS tribute band was in town. Cross-country skiing and rock-and-roll may seem unlikely partners, but they joined forces this year for Team Scream, the Revelstoke Nordic Club's annual costume race.
All ages flocked to the ski stadium on February 28 under a sunny sky and a light wind ‒ perfect for tousling strands of black and white wigs, or sending pink feathers swirling from a boa. Although most racers were the skiers, parents, and coaches involved in the club's Jackrabbits and Track Attack lesson program, some competitors from Salmon Arm's Larch Hills Nordic Club drove the hour to participate in the fun.
Debbie, Ralph, Tayla, and Josi Koerber – aka KISS ‒ were decked out in full makeup and black Lycra and leather accented with tinfoil. Debbie Koerber, also in charge of timing, said they've been participating in Team Scream since Tayla was five or six. 'It was one of the great events that drew us to the club." This was probably the family's last year in costume, as Tayla will be moving on to university in the fall.
As at any rock concert, there was also plenty of ripped denim, faded flannel, black eye makeup, and teased hair, and of course heavy bass pumping from the speakers. Kendra von Bremen, a Bunnies coach and one of the race organizers, interpreted the costume theme in a different way, appointing herself Head Rock Star by taping a cardboard star with a pebble in the middle of it to her toque. Her kids, Hamish and Fiona, were groupies, with similar decorations packing-taped around their jackets.
The Bunnies racers (the program's youngest skiers) skied a lap of Titan, which in the shade was quite icy on the downhills, leading to a few tumbles. Bunnies and Rabbits received homemade cookie medals at the finish, an RNC tradition. When asked about his favorite part of the race, four-year-old Zachary Grabinsky replied, "The cookie!"


The other racers could compete in either a relay race or an individual skiathlon. In the relay, one competitor skied a classic lap of the 3.7 km Mickey Olson loop, and the other competitor skied a lap of either classic or skate. Skiathlon racers skied one lap in classic and one lap in skate, which meant switching skis after the first lap. Skier Nikki Norrie said, "The uphills required extra effort because of a thick layer of sugar snow, but the course in general was quite fast, and I was able to tuck for quite a long way near the end."
For the relay, skiers' ages were combined to determine the groupings, thus TNT (Tammy Viznaugh and Norm Tennant) came first in the Mixed Gender 92-141 category, with a combined time of 27:40. The DeLux Moore's, Eric Moore and Nelson Luxmoore, finished first in the Men's 19-21 category with a time of 28:39, but their sisters, Julianne Moore and Alexandra Luxmoore of Salmon Revolution, were faster, taking first in the Women's 19-21 with a time of 26:48. Team Zoowee Mama, aka Lutza and Bence Berkenbosch, and very cute in flannel and gelled hair, won the Mixed 15-18 category in a time of 53:37.


The Team Scream focus is more on fun than fast times, but skiers achieved both. Natalie MacLeod and Sylvia Wood, laughing and resplendent in big wigs, big sunglasses, and neon and black rocker-chick duds, won the Women's 52-91 category with a time of 29:41.
Parent/child race teams were also part of the fun. Ann-Marie Gill as Lady Gaga and her son Tobin, in a tall blue wig à la Marge Simpson, came second in the Mixed 42-51 category, with a time of 38:43, and Team Norrie, with Nikki and Cameron Norrie, came first, in 32:44. Some of the team names were just as good as the races, such as G-Wacky, with son Oskar Glowacki and mom Tara Sylvestre, and Acton Action, with son Alex Acton and mom Stephanie Melnyk.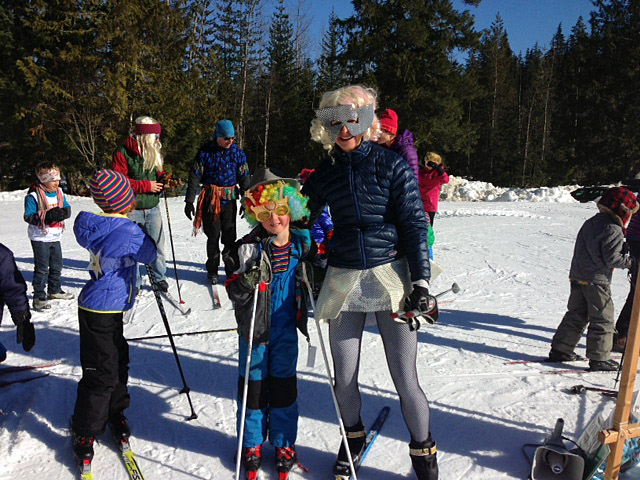 And in a bit of friendly controversy, the 52-91 category had a placement upset. At the end of race day, Bucketheads Mandy Kellner and Harry van Oort, sporting upside down KFC containers, were declared the winners, with a time of 27:08. Jeff Wilson, aka Angus from AC/DC, was listed second with his wife Eleanor, a Sonny-less Cher. Jeff contested the outcome, stating that Rory Luxmoore, who competed in the skiathlon, had mistakenly taken Jeff's bib number. The race organizers realized this to be true, and while Luxmoore's time was not affected, the Wilsons were given first place.
However, in chasing down the issue, Jeff realized that Simone Palmer and Corey Bird of Team Unprepared!!!, who had been placed last in the 52-91 category, actually deserved the win. Jeff said, "Corey didn't have a time recorded and at first I thought he had to go and deal with a kid issue, but then I remembered that he had passed me." Race timer Debbie Koerner said that although the event had a back-up to the back-up timer, somehow Bird's time got missed, and with no official time recorded, his result could not be included in the final calculations. All now acknowledge that Palmer and Bird came in first, and in a fine example of Team Scream's lighthearted spirit, Bird and Palmer had no objections to how the results played out.
Prizes were given not just for fastest times, but also for sportsmanship, with Konrad Van Varseveld from Salmon Arm's Larch Hill's Nordic Club winning a Tough Cookie award for skiing with a broken (casted) arm. Six people were awarded Best Costume: Francesco Morrone as another KISS member; Natalia Morrone decked out in 80s' rock fashion; Lady Ga-Ga and her other son, Nick, dressed as a clown rocker in guitar sunglasses; and Pink Punky Pop Stars Lillian Vickers and Maeve MacLeod.
Team Scream happens because of RNC's volunteers. In honour of his consistent dedication over the event's ten-year history, at the end of event, the club thanked Team Scream creator and organizer Keith McNab with his own rock concert. Head coach Matt Smider played guitar, accompanied by Rory Luxmoore on vocals and in fabulous red-and-yellow-striped bell bottoms.
And although the KISS Koerbers won the crowd's awe and admiration, they didn't win Best Costume – because they're not allowed to anymore. After the family took the top prize year after year, the organizers finally decided that other families should be given a chance to win. "That we're not allowed to win is kind of a running joke now," said Debbie Koerber. But they keep dressing up just for the fun of it, which, after all, is what Team Scream is all about.
Full disclosure: The author's son was the one who liked the cookies noted in this article, which were made by the author and Cindy Maloney, another parent volunteer. For the full race results and more information on RNC, go to their website: revelstokenordic.org.