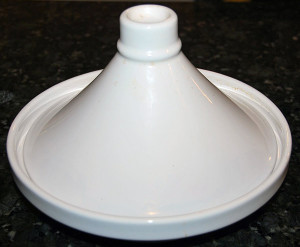 By Leslie Savage
Revelstoke Current Food Editor

Tagines are the basic cook pots of Morocco. Roadside vendors throughout the country sell them by the thousands — earthenware terracotta pointy-topped vessels, piled up six feet or more in stacks beside bus stops and wayside markets. Don't they break? Yes, probably, that's why so many are sold.
You can buy a tagine here at Big Mountain Kitchen and Linen, made of either metal or pottery. Lucky me — I got one for Christmas.
Tagine cookery is slow cooking, low-fat, one-dish, prep ahead. It's healthy because it requires no extra fat, it steams food rather than baking or grilling it, which tends to dry out some foods. It's easy, because you cook the vegetables and fish or meat together in one dish, at one time. It can be set up ahead, if your oven has a timer. Or you can cook early and reheat later.
Because of the conical top, the meats and veggies you put into the pot with a little sauce steam rather than simmer, retaining their shape and arrangement because you don't stir or turn them.
Below are a couple f my favorite tagine recipes, as well as some photos we took in Morocco. Enjoy the recipes and some fave photos.


Fish Chermoula in Tagine
Serves 4
Chermoula is a sauce to cook with fish or chicken. Make the sauce first, marinate the fish, cut the veggies, then layer all into the fish. Some recipes ask you to cook the veggies first then add the fish, but this authentic Morrocan version from Essouira puts them all in the pot together. You can if you like replace the spices with ras-el-hanout, a Moroccan spice mixture, but test first with a little water for hotness: some of the commercial mixes are heavy on the hot pepper side.


Chermoula
3 tbsp olive oil
3 tbsp lemon juice
½ tsp grated lemon rind
1 tbsp parsley, finely chopped
1 tbsp tomato paste
1 tsp garlic, finely minced
1 tsp hot paprika
1-2 tbsp cumin, ground
1 tsp turmeric
1 tsp ground ginger, or 1 tbs grated fresh ginger
1 tsp salt
1 tsp sugar
2-6 tbsp water, enough to make sauce juicy but not thin


Fish Tagine
4 fish fillets: cod, tilapia, halibut, sea bass – any firm white fish
2-3 carrots, cut into strips
2 celery stalks, cut into think sticks
2 large potatoes, peeled and cut into thin slices
1 tomato, cut into thin slices
1 red bell pepper, thinly sliced
1 handful of olives — red or green


Steps
Preheat oven to 325° F
If tagine is new, rub inside with 1 tsp oil
Marinade fish in chermoula for 15-60 minutes
Arrange carrot slices in bottom of the tagine.
Criss-cross with celery sticks on top of carrots
Arrange potato slices on top of the fish in a way that they make a bed for the fish.
Arrange the fish filets on top of the potatoes. Use some of the marinade. But reserve extra for later.
Arrange pepper and tomato slices on top of fish.
Put the remaining chermoula sauce on top, and scatter olives on top.
Put on lid. Cook in a moderately slow oven for about 1.5 hours, or until potatoes and fish are done.
Be careful when you remove the tagine from the oven and open it — the steam build-up inside the conical lid can burn you. Open the lids the the steam exits the pot away from you. Wear big oven mitts — I find the silicone ones helpful because it doesn't matter if your thumb gets some sauce on it.
Most Moroccan dishes are served with either rice or couscous and flatbread, which is used to scoop up the couscous, some veg, sauce and a little fish.


Beef or Lamb Tagine and Prunes with Squash
Serves 4-6
In Morocco, where sheep and goats dominate the landscape, a lamb or goat tagine is perhaps more typical than beef. I've made this with both  and either way it's great. The browning of the meat rubbed with spices tasks a few extra minutes but keeps the meat moist while it slow cooks, and allows the spices to "flower," or release their fragrance into the meat, rather than into the liquids that accumulate in the tagine.
Moroccans like their meat on the bone, but I find the tagine easier to manage if the meat is boneless. Your decision.
Beef tagine with prunes and squash
3 lbs. tender beef or lamb, cut into pieces about 1 inch square.
3 tbsp canola oil
1 onion, finely chopped
3 cloves garlic, minced
1 tsp cinnamon
1 tsp salt
1 tsp pepper
2 tsp dry ginger or 1 tbsp fresh grated ginger
½ tsp turmeric
1 tsp ras-el-hanout OR ½ tsp dried chili crushed
1 cup prunes, stones removed
2 cups butternut squash pieces, squash peeled, seeded and cut up into about 1 inch squares
1 cup tomato sauce (Western Family plain pasta sauce is good)
1 cup beef stock
Steps
Preheat oven to 350° F.
Mix all the spices and the salt together in a large bowl.
Add the meat and toss until all sides of the meat squares are coated with spice mix.
In a large skillet, heat 2 tbsp of the the oil, add the meat, and brown it on all sides. Remove from pan and put into the tagine..
Add the other tbsp of oil, and sauté the onion and garlic in the pan; when just beginning to be fragrant, remove and scrape into the tagine with the meat.
Peel and dice the squash. Add squash pieces to the tagine.
Add the prunes, then the tomato sauce and the stock. Put the lid on the tagine.
Cook in the oven for 2-3 hours. Check the progress. If there's too much liquid, remove a little. If the dish looks dry, add ½ cup water. (The moisture content of meat and the squash varies.) Remove from the oven when everything looks cooked and smells wonderful. The tagine can sit and will stay hot for over an hour if you wrap the pot in a tea towel.
Serve with rice or couscous, flatbread, and a salad.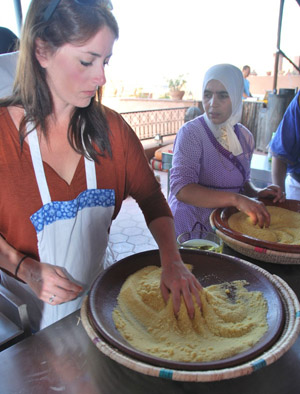 A note about couscous
Couscous is a typically North African companion to many meals. It is not a grain, but rather consists of tiny bits of semolina wheat pasta. Like other pasta, it stores well and requires particular attention while cooking.
The larger couscous, known in North America as Israeli couscous, is not something I saw in Morocco. The tiny couscous is cooked there is a very special way that gives it a lightness and fresh quality seldom seen here, where couscous cooked according to package directions tends to be lumpy and if overcooked, too much like pudding.
At a cooking lesson, we learned how to make couscous Moroccan style. First, use a couscousière, a large steamer with tiny holes in the bottom of the upper compartment pot, so that steam can go up but the couscous grains can't fall down. (see earlier article on Moroccan cooking for photo.)
Then, after about 10 minutes steaming, the grains are removed from the steamer into a large bowl, where they are tossed, with hands able to withstand almost boiling heat, with 2-3 tbsp olive oil. This process is repeated three times—into the steamer, into the bowl, tossed with oil. The result is that every grain of couscous stays separate, and the air between the grains makes for a light, airy dish.