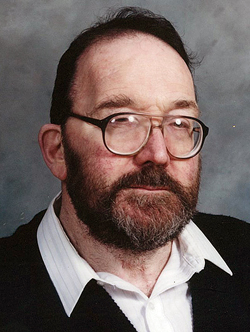 With deep sorrow we announce the passing of Mr. David Lee Williams at Mt. Cartier Court Extended Care, Revelstoke on Saturday, February 28, 2015, at the age of 74 years.
A Celebration and Honouring of Life will be held at St. Peter's Anglican Church, Revelstoke on Thursday afternoon, March 26 at 2 pm with Reverend Dan Meakes officiating. In lieu of flowers, memorial contributions may be made to Mt. Cartier Court Extended Care Foundation, Bag 5000, Revelstoke, BC, V0E 2S0 or to the charity of one's choice in memory of Dave.
Born on June 26, 1940, in Dodsland, Saskatchewan, Dave grew up in the communities of Kerrobert and Meadow Lake, Saskatchewan, prior to his move to Revelstoke in the late 1960s. Dave's life was one of adventure. He was an avid historian and a man engaged in our community. He was an accomplished mural artist and sign painter, commercial scuba diver and surveyor, a life-long writer, story teller, model-maker and cartoonist. He was a compassionate man, who also had a superb sense of humour. Dave was involved with the Cadets and Scouts in Meadow Lake and Revelstoke, assisting with their activities and training. He loved to fly, having earned his small aircraft pilot license in his late teens. He also enjoyed riding his motorbikes and teaching others to ride. Dave's imagination developed his many talents to the fullest and put them to use as an engineer-technician at CP Rail Revelstoke Division and especially during his decades of employment at Three-Valley Gap, where he felt as though with family.
Dave was predeceased by his parents Walter and Jean and step-mother Romona, and his father and mother-in-law, Tom and Harriet Chase. He is survived by his loving wife Miriam of Revelstoke; step-daughter Elizabeth (Keith) Hollingsworth of Barrhead, Alberta, and their children: Rylan, Justin, Morgan and Samantha; Aunt Ferne Vincent of Outlook, Saskatchewan, and Uncle Esmond Allcock of Kerrobert, Saskatchewan, as well as many cousins.
His family extends heart-felt thanks to all in the medical community who helped Dave through his years in care. Especially during his last weeks, doctors, hospital staff and Mt. Cartier Court, you gave extraordinary care to Dave, with all compassion possible. We thank you.
Messages of condolence may be sent to the family by visiting Dave's obituary notice at www.brandonbowersfuneralhome.com
Cremation arrangements are in the care of Brandon Bowers Funeral Home, Revelstoke.