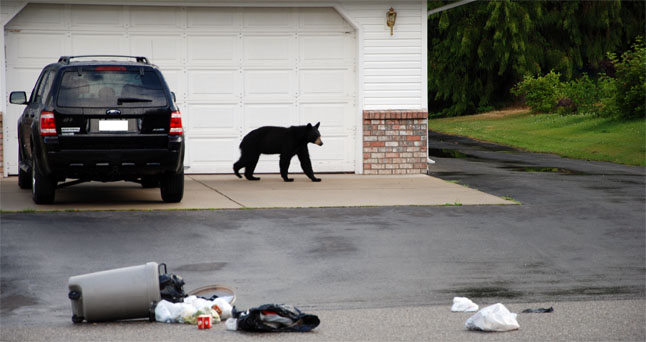 Our ursine friends are up and about and, judging by the reports coming in to Revelstoke Bear Aware, hungry enough to eat your garbage. What? Bears eat trash? Of, course they will — if they can; that's nothing new, but it is a little early for them.
"I had a report today of a bear dragging away someone's garbage bin," Bear Aware Coordinator Sue Davies said in a statement released on Tuesday, March 24. "We usually expect bears to awaken from their winter sleep sometime in April, but the warm weather means that plants are starting to sprout and that is all the bears need to wake up and get started on their summer easting schedule."
That report from the Big Eddy may not be a one-off. Davies said she has heard a number of unverified reports from elsewhere in the city and she'd like to see residents begin securing their garbage and other attractants such as pet food, bird feeders, uncleaned BBQ grills and compost heaps now. If we don't get on it now we could end up with more than a few local bears becoming conditioned to eating human trash and then being designated as 'problem bears.' We all know what that label can wind up meaning for a bear: Death.
"After last season, when 10 bears were destroyed in Revelstoke, I'd like to think that people will be a bit more vigilant about keeping food away from bears, but it seems that the owner of the garbage was caught out by the early arrival of the bear," Davies said, adding that everyone should consider this early sighting a wake-up call.
Bear Aware will be updating the interactive sighting map on its website and Davies will no doubt be out an about with her bright yellow signs alerting residents to neighbourhood bear sightings.
Here are 10 tips to being Bear Aware:
Secure garbage either in a bear-resistant container or indoors and keep it secured until after 6 am on garbage pickup day.
Be sure to harvest ripe fruit and all windfall fruit every day.
Remove bird feeders during bear season, April to November, or only put it small amounts of seed and bring the feeder in each evening.
Feed your pets indoors and store their food, and livestock feed, indoors
Consider installing an electric fence if you keep bees or livestock such as chicken.
Consider removing outdoor freezers or fridges.
Do not put cooked food, meat, fish or cheese into your compost; stinky compost is a major attractant.
Clean your barbeque after each use.
Never feed wildlife.
Report any wildlife conflicts or bear sightings to the Conservation Officer Service's 24‐hour hotline at 1-877-952-RAPP.
For more information please visit the Bear Aware website or call Sue Davies at 250-837-8624.