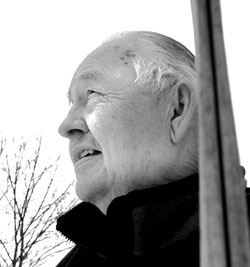 Kenneth Oliver (Ken) Granstrom passed away at Queen Victoria Hospital, Revelstoke in the early morning hours of February 4, 2015 at the age of 83 years.
A Memorial Service will be held from the Revelstoke United Church on Saturday afternoon, February 7 at 1 pm. with Reverend Ken Jones officiating. Interment of the cremated remains will follow in the family plot of Mountain View Cemetery, Revelstoke.
In lieu of flowers, memorial contributions may be made to the Revelstoke Community Foundation, P.O. Box 2398, Revelstoke, B.C. V0E 2S0, in memory of Ken.
Kenny was born in Revelstoke on December 7, 1931, and had been a lifelong resident. He was a well-respected businessman in our community for many years and had operated the Gulf bulk fuel plant, McGregor's Motor Inn and Farwell Plaza.
Ken's love in life was his family and he enjoyed every moment spent with them. His hobbies were varied and many. He loved to get out into the mountains to pick huckleberries and mushrooms and he was known to his family as the "Huckleberry Hound." Ken enjoyed playing golf and was an active member of the Revelstoke Golf Course for 70 years. He was an avid skier and ski jumper for most of his life. His kind and considerate personality drew many people into his circle of friends and acquaintances over the years.
Ken was predeceased by his father Ragnar Granstrom, mother Beatrice Granstrom-Fransen, step-father Gus Fransen and by a son, Robert Kenneth in 1980. He is survived by his wife, Marian; two children: Cathy Granstrom and Bruce Granstrom (Rosemary Kelsall) as well as his two granddaughters, Kate and Beth all of Revelstoke; his sister, Shirlee Ludwig of Revelstoke and brother Martin (Ann) Fransen of Victoria as well as several nieces and nephews and a number of good friends.
Messages of condolence may be sent to the family by visiting Ken's obituary notice at www.brandonbowersfuneralhome.com
Arrangements are in the care of Brandon Bowers Funeral Home, Revelstoke.