By David F. Rooney
Looking for the perfect way to show your sweetheart you love him or her? Invite them to the Performing Arts Centre's Valentine's double bill with singer Darrelle London and cellist-guitarist Kevin Fox on Friday, February 13.
London's half of the concert is bound to be particularly interesting. Over the course of two albums — and now three (her latest, Tangerine and Blue, is being released in three weeks) — this young singer-songwriter has developed a strong following here at home in Canada as well as the United States and South Korea.
Wait a minute… South Korea?
Darrelle has a unique child-like voice that captures and holds your attention from the very first note. Her songs are playful, clever and interesting, and even caught and held the attention of the South Korean government's Census advertising campaign.
"I thought it was a joke at first," London said in an interview last week. "But it wasn't. They heard one of my songs and wanted to use it. That's an example of how crazy and unpredictable this industry can be."
The pervasive nature of the advertising led to national interest in her work and Miss London consequently has a devoted and growing South Korean fan base. She plans on performing in that country at some point in the near future.
Tangerine and Blue is Darrelle's new album and she said about half of her set on Friday will be dedicated to these new songs. (Please click here to hear the title cut.)
London is an interesting young woman who knows how to follow her heart and her talent. She originally set out to become a lawyer but decided that really wasn't for her. Following the footsteps of her father, who is a lawyer in Toronto, she took a few law courses at the University of Toronto but wasn't excited by them.
"So I decided to follow my gut instinct" and decided to try her hand at singing and songwriting. Ironically that, too, is something her father knows about. He is an amateur musician who understands the songwriting process and taught her much of what she knows.
She said she has written about 200 or 300 songs about half of which were tossed out. The rest, though, are pretty damned good. (Please click here to listen to a small selection of Darelle London's music.)
She has certainly proven herself good enough to be included in renowned festivals such as Lilith Fair and North by Northeast and to perform in places like Hollywood's Troubador Club.
As you'll see on Friday evening a Darrelle London concert is something you won't want to miss. To help you make up your mind I have provided a YouTube intervuew with Darrelle London as well as a video of one of her songs:


The other half of Friday evening's concert features cellist and guitarist Kevin Fox.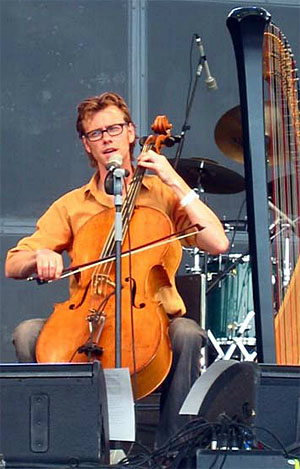 Although he has been spending the last few years composing arrangements for the likes of Justin Bieber and Kathleen Edwards, recording with artists as diverse as Raine Maida and Celine Dion and touring extensively with musicians ranging from Chantal Kreviazuk and Steven Page to Tom Cochrane and Olivia Newton-John Fox has been busy producing his third album, too. Set Right follows on his critically acclaimed 2008 collection, Songs for Cello & Voice, and his first album, Come Alive.
If you are unfamiliar with Kevin Fox you can find out more about this fine Canadian musician at http://www.kevinfox.ca/.
Tickets for this concert are $10 at the door. You can purchase them downtown at Art First at on First Street West and at the Business and Visitor Information Centre on Victoria Road West. Please click here to purchase them online.