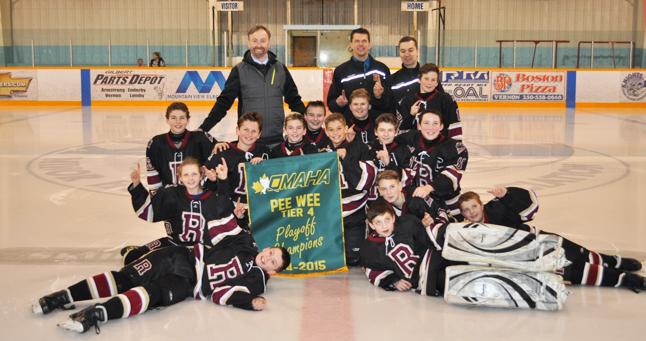 By Alex Farrugia
This weekend the Atom team had a great start to their playoff series.  They beat Salmon Arm 1 (6-1) on Saturday at home and Winfield 1 (6-2) in Winfield on Sunday.  They play Salmon Arm 2 in Sicamous on Wednesday, February 25, at 5 pm and Vernon 3 at home next Saturday, February 28, at 10:50 am.
The Pee Wee team defeated The North Okanagan Knights after a two-game sweep and earned a spot at the Provincial BC Championships, in Kimberly March 14-18.  They played hard and defeated the Knights who came out strong in game 1 (6-2) at home on Saturday.  Game 2 was in Enderby on Sunday and our team played with purpose, winning (5-1) bringing home the Playoff Championship Banner.
The Bantams had Game 1 of their series in Kamloops on Sunday, February 23, and played a very strong game on the Olympic ice surface Kamloops scheduled them on, winning a shut out game 3-0.  They play Game 2 of the series at home next Saturday, February 28, at 3:05 pm.
Thanks to all the fans who supported these teams over the weekend!