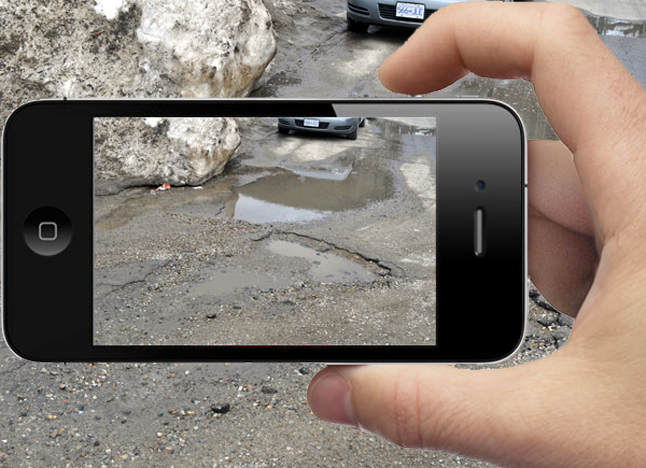 By David F. Rooney
City Council has voted to approve an innovative and very publicly interactive approach to identifying and prioritizing infrastructure problems around the City.
The SeeClickFix Program allows people who download its software application onto their smart phones to spot a an issue like, say, a pot hole, take photo of it and then send it to the appropriate person or department at City Hall for action.
SeeClickFix is currently being used, successfully in many Canadian and American cities. It was first identified as a possible addition to Revelstoke's municipal services by Mayor Mark McKee during last November's civic election.
"City processes for responding to non-emergency citizen service requests are currently handled by phone, e-mail and in-person visits," Mike Thomas, director Engineering and Development Services said in a report to Council during its last meeting of 2014 on December 23.
"With an increasing number of citizens replacing phone, e-mail and in-person communications with mobile applications, there is a growing expectation for immediate access to local government services."
He noted that while the current calls-for-service system handles hundreds of calls each year, the new SeeClickFix technology can greatly improve its efficiency by:
Streamlining the identification and collection of problems;
Using map-based mobile apps and website widgets;
Using integrated GIS and mapping software;
Providing public feedback on issues submitted to the City;
Permitting the City to automatically notify complainants when work on an issue they identified is completed;
Harnessing mobile technology for citizens and staff;
Linking to asset management software;
Tracking and measuring issues and maintenance;
Automatically assigning tasks; and
Improving internal workflow and work order management.
All told the system will cost the City about $7,000. That money could easily come out of the already approved 2014 budget.
"This is a very good way for people to get involved in identifying issues and seeing them resolved," McKee said
Please click here to read the complete proposal.
You can also click on the YouTube player below to watch the December 23 Council meeting.

Or you can click on this player to watch Councillor Connie Brothers talks about the SeeClickFix program: