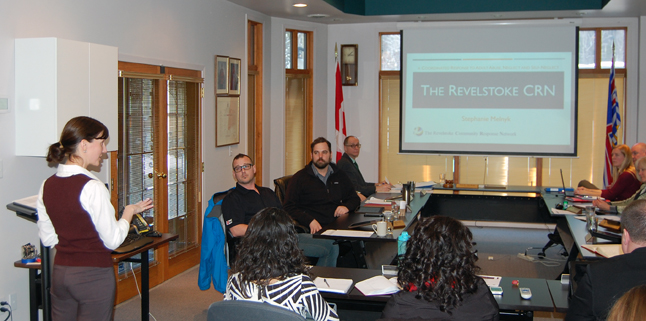 By David F. Rooney
The complex issue of hoarding by some individuals is a problem that should be addressed by the City in conjunction with other agencies, says Stephanie Melnyk, executive director of the Community Response Network.
Speaking to City Council on Tuesday, January 13, she said hoarding poses challenges to front-line municipal services, such as the Fire Rescue Service and she recommended that Revelstoke follow Vancouver's lead and confront the issue head-on.
According to the BC Centre for Elder Advocacy and Support five per cent of the North American population is afflicted with CHD – generally people in their 50s – that is over 1.75 million Canadians, three times the incidence of Alzheimers Disease.  The City of Vancouver dealt with 96 cases of hoarding last year and recently created a pilot project to deal with the issue.
The Hoarding Action Response Team (HART) — a partnership between the City and Vancouver Coastal Health — is an 18-month pilot project providing a coordinated community response to those impacted by hoarding.
Compulsive hoarding is a serious public health hazard that poses significant health and safety risks for individuals, families, and communities.
The team's role is to provide healthy and safe outcomes for people affected by hoarding, and ensure people with hoarding issues receive appropriate health care support quickly.
The most widely accepted definition of hoarding was created by Drs. Randy Frost and Tamara Hartl of Northhampton, Massachusetts', Smith College are credited with the widely accepted definition of compulsive hoarding:
Behaviour that consists of the accumulation of a large number of possessions that seem useless to others; creating living spaces that are difficult to use; and being prone to impairment such as indecisiveness, disorganization, perfectionism, procrastination and avoidance that isolate them from others.
What Things Are Hoarded?
The 10 most common things hoarded are:
"Paper especially newspapers;
The things used in everyday life that don't get put away;
Excessive recycling materials that don't get recycled;
Clothing;
Plastic bags;
Sentimental things that tell a story of happier times;
Mechanical things, car parts, electronic equipment and parts, tools, nuts, bolts, screws, building materials;
Wool, fabric, craft supplies;
Furniture; and
Animals.
Melnyk said it is difficult to quantify the number of hoarders in the city, but "a number of instances" have come to the attention of CRN members. However, the CRN is primarily focused on education and does not initiate or undertake treatment programs; nor does it direct the work of affiliated agencies such as Communications and Interior Health.
"I am assuming that staff will internally ask themselves if this is an issue the City should get involved with," Mayor McKee said at the conclusion of Melnyk's presentation to Council, adding that he regards this as an important local issue.
Indeed, City staff are already very aware of the implications that hoarding holds for everything from public health, fire safety and even property values.
Development Services Manager Dean Strachan assisted Melnyk with some portions of her presentation and reportedly dealt with hoarding cases when he was in the Okanagan. And Fire Chief Rob Girard said hoarding is a real concern for local firefighters.
"I don't have specific numbers but can tell you we have attended these types of situations in various degrees of hording over the years," he told The Revelstoke Current.  "It affects our access within the structure, for instance: being able to open or close interior doors during a search; outside the structure, being able to have an alternate egress point for firefighters.  Within the structure itself, accumulated materials create; traps for firefighters, challenges for locating occupants and significant fire loading of materials creates challenges for us to find and extinguish the seat of the fire."
It is, naturally, also a threat to the safety of both afflicted residents and firefighters, Girard said.
"An example would be an apartment, duplex or rooming house where others live in close proximity.  I am equally concerned for the individuals themselves having the ability to clearly exit their residence safely and that they have a functioning smoke alarm."
What municipal staff can recommend remains to be seen. The agencies that could become involved in anything the City proposes might include Community Connections, Interior Health, the Canadian Mental Health Association, the Seniors' Association, the Revelstoke Awareness and Outreach Program, the RCMP and the Fire Rescue Service.
If you would like to see Stephanie Melnyk's presentation about the CRN and her comments about hoarding please activate the YouTube player below. Her comments begin at about the 3-minute mark and concludes at 14:34 minutes: