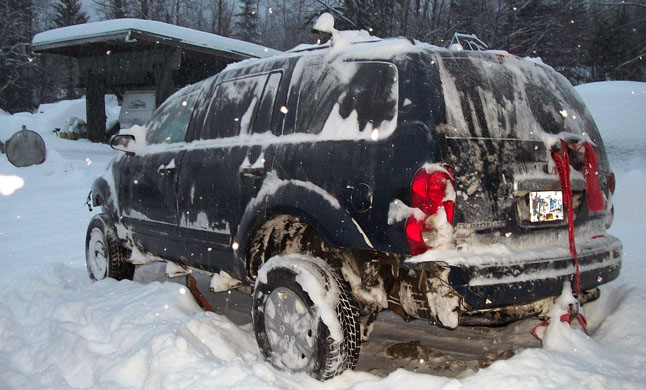 By David F. Rooney
Conditions that may have contributed to the recent deaths of five people on the Trans-Canada between Golden and Sicamous are certainly responsible for a number of non-fatal accidents this past weekend, says a local man.
A drive back from Salmon Arm last Saturday was a white-knuckle nightmare for Brian Laurence as slow-moving traffic negotiated patches of glare ice and what appeared to be a real dearth of sand and gravel on the highway.
It was actually a little more than simply hair-raising. Laurence said he rolled his SUV when he hit an icy stretch near the Enchanted Forest.
"Enough is enough," he said Monday after he called The Current to complain about snow clearance on the TCH. "We have to go after the powers that be to get this taken care of."
Laurence said he was travelling at under 75 kmph when he hit the ice and rolled off the road. It could have been worse. He rolled right; if he had rolled left he would have ended up in the Eagle River and could have drowned before he could free himself from his seatbelt.
He said that, judging by what he could see, there was not enough sand on the road surface.
Trans-Canada remains cut to the East until Wednesday
HMC Services Operations Manager Derek Thur said winter driving conditions in the mountains are always variable and sometimes suddenly so. Take the TCH. The highway East of Revelstoke will be open to traffic at about 8 pm Tuesday evening but the portion West of the city will remain closed over night as freezing rain prevented all avalanche control measures from happening until at least 8 am Wednesday, January 7.
"Unfortunately rollovers and other accidents happen every year at this time," he said in an interview late Tuesday afternoon, adding that people need to let the conditions dictate their driving. Even then, as Brian Laurence discovered, there's no guarantee that you won't suffer from misfortune.
Thur said HMC's 13 trucks, two graders and five loaders have been busy non-stop all over the region's highways, including the TCH and Highway 23 North to Mica and South to Shelter Bay.
Their labours are certainly needed.
Winter Storm Warning in effect
Revelstoke and the surrounding region received about 30 centimetres of the white stuff and while it appears to be tapering off, a Winter Storm Warning is in effect.


"Hazardous winter conditions are expected," says an Environment Canada Winter Storm Warning on The Weather Network. A Pacific Warm Front will continue to spread snow over the West and North Columbia regions into this evening. Further snowfall accumulations of 2 to 4 cm are expected this evening. The snow will taper off overnight as the front moves northward. In addition to the snowfall, freezing rain is also a possibility over the West Columbia and the North Columbia regions this evening.
"Consider postponing non-essential travel until conditions improve. Environment Canada meteorologists will update alerts as required. Please monitor local media or Weatheradio. Email reports of severe weather to pacificstorm@ec.gc.ca or tweet with the hashtag #BCStorm."