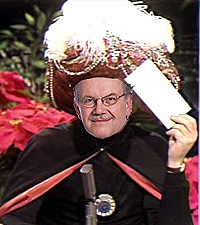 Once more into the breach, dear friends; Bendinni the Boastful finds himself, again in the position of making not one correct prediction for the previous year, proudly preserving his amateur status, meaning, he has not charged anyone a single cent for something they already intuitively know, unlike the professional psychics.
So, enjoy and join in the fun. Alastair, Fred, surely you have a preposterous prediction, or two?
10. All Revelstoke drivers will finally signal before they initiate a turn and come to a full stop at signed intersections, and, in a curious twist of fate Lawrence Hutnyk will get a speeding ticket.
9. There will be no snowfall in January, no avalanches and no highway closures leaving enough money for the city and province to build a new intersection at Victoria Road and the Trans-Canada Highway. CP will expand the underpass to 4 lanes but it will be a toll road.
8. The Sherlock's world-class Christmas light display will overload the Revelstoke Dam's power-producing capability causing a city-wide black out on Christmas Eve allowing the neighbors to finally get a good night's sleep as the there will be no false, overwhelming daylight at midnight.
7. There will be no private snowmobile thefts ever again thanks to the RCMP decoy sled program supplying sled thieves with plenty of product but not in a way you might think. The glut of "hot" sleds on the market will drive the price of machines so low the market for snatched sleds will collapse…very creative solution my main Mounties.
6. The Revelstoke golf course will be sold to Disney Corp. which will turn it into the world's largest mini-golf course featuring the Tony Scarcella pendulum of doom that blocks almost every shot with a booming "NO!"
5. The Revelstoke Chamber of Commerce will initiate the Share-A-Bed program for seasonal workers primarily in the ski industry that will prove to be extremely popular among, mostly, singles. It will solve the housing and rental shortage, fill the labour market and put eHarmony out of business.
4. The Big Eddy will get City of Revelstoke water but since there is no budget for the project, the City will agree to building a new system only if it can locate a second sewage treatment plant on the old Big Eddy school grounds prompting some 'Eddy' residents to howl, "No way Revelstoke, we've had enough out of you!"
3. BC Hydro will install the 6th. turbine at the Revelstoke dam plus, use the penstock as a tourist attraction, billing it the world's wildest water slide. A few minor details still have to be worked out, like, how to get living bodies through the turbine without making cadaver mince-meat but boy, what a ride!
2. Mount Begbie Brewery will relocate to the big lot at the corner of the road to the Hillcrest and the TCH but not until our new hyper-business-sector council insists that the Larsons erect a massive, 100,000 lumens video billboard sporting Bart and Tracey in leder hosen and dirndl swinging 2 liter beer steins and waving to travelers on the highway. Council will first have to pass a new, gaudy sign bylaw.
1. Beginning now and for the next decade Revelstoke will become known as the Canadian capital for controversial election campaigns, surpassing Penticton and Cranbrook , supplying this fine journal with an endless stream of fractured fairy tales and anonymous (nudge-nudge/wink-wink) tips.
And…
Special to this year's edition of The Revelstoke Current: The Great One was going through his archives and fell upon the first publishing of the Top 10 Psychic Predictions for 1997. Following are 3 of the top ten predictions from yesteryear.
A conservation officer will finally be appointed for Revelstoke who will make sure no more bears are shot. He will also tear down the fence around the dump and put up bleachers. Admission will be 5 dollars to watch the bears chow down. The huge revenues will be used to build a ski lift to the top or Mount MacKenzie.
Revelstoke's only public washrooms will open again, only in the summer, after council gives 3rd. reading of Bill P. 1. which makes it an offense to hear nature call during the winter.
In a revenue regenerating measure, the City will install water meters and Councilor Scarcella will ask, "How many feet are in a water metre?"
That's it for another coming year. Bendinni must now retire to his Himalayan retreat and heal. During the yuletide he was entertaining guests and burned his tongue making French toast.