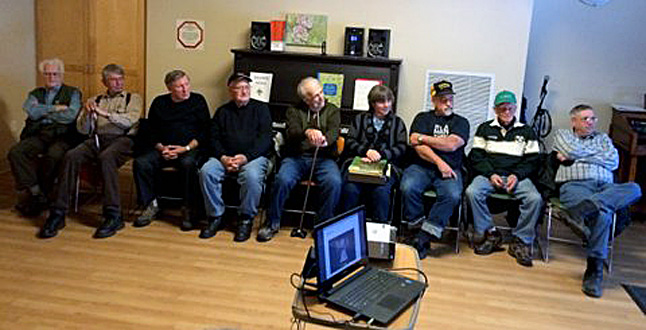 Members of the Retired Railroaders Coffee Club are telling tales far and wide in Revelstoke this winter. Last week, on December 1, the Railway Storytellers enthralled residents of Mount Cartier Court with their real life experiences.  This live and digital presentation from the Revelstoke Railway Museum included historical photos and film clips.  Members of the Retired Railroaders Coffee Club came out in force to reach folks not able to visit the museum.
Funded by the New Horizons for Seniors Program, this event involved over 30 seniors, including presenters and audience members.  Reviews from the staff were good as the audience was attentive and listened well during the hour-long presentation.
Future presentations for seniors are planned for Moberly Manor on January 12 and the January Birthday Party at the Revelstoke Senior Citizens' Association on January 21 at 2 pm.
The Coffee Club has been meeting at the Railway Museum since October 2011 to work on a variety of projects, including the recording of oral histories for the museum's digital archives. Their biggest achievement is the Community Memories project on the Virtual Museum of Canada's website, entitled Tough Railroaders, Rough Railroad. This display includes numerous short video clips of railway workers sharing their first person experiences.
You can view their efforts by following the Exhibits link at www.railwaymuseum.com.
To get involved or for more information please call (250)837-6060 or e-mail railway@telus.net.