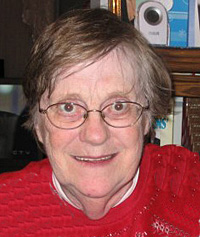 Beverley Joan McMahon passed away at Vernon Jubilee Hospital, Vernon on Tuesday, December 2, 2014, at the age of 77 years.
There will be no formal funeral service by Bev's own request.
Bev was born in New Westminster, BC, on September 29, 1937. She had lived in Revelstoke for many years prior to her move to Vernon about 10 years ago. She loved to play games on her computer and in her younger years was an avid Bingo player.
Bev was predeceased by two brothers, Ken and Jimmy Canning and by her husband, Tosh. She is survived by four children: Paul Kreschuk of Abbotsford, Pauline Kreschuk of the Lower Mainland, Kit Kreschuk of Kelowna and Ken Kreschuk of Abbotsford; several grandchildren and great grandchildren; one sister Linda (Terry) Brunt of Vancouver Island; three brothers: Bob Canning and Art Canning of Agassiz and Wayne (Linda) Canning of Surrey, numerous nieces & nephews; as well as her two dogs: Peppy and Spike.
Cremation arrangements were in the care of Brandon Bowers Funeral Home, Revelstoke.