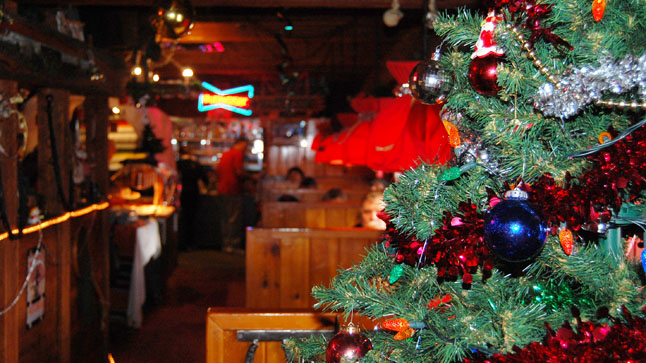 By David F. Rooney
The 20th Annual Community Christmas Dinner was a very successful event attracting hundreds of people who might otherwise have spent Christmas Day alone. But after two decades the event needs a new organizer. Who will take up the reins from Ginger Shoji?
That's a question that likely won't be answered until sometime late next year, but whoever decides to step up and organize the 21st Annual Community Christmas Dinner will have to be a very energetic, selfless and big-hearted person to fill Ginger's shoes.
This year's dinner attracted 300 people for the sit-down meal of turkey and all the fixings at the Old Frontier while 84 meals-to-go were delivered to people all over town.
"There were 31 volunteers who came throughout the day from prep to delivery of leftovers to the Women's Shelter and Soup and a Smile (that's the lunch-hour meals offered at the United Church on week days) — Not a lot of left overs; we were running out of a few items at the end," Ginger told The Current.
The success of this annual event says as much about the nature of our community as it does about the organizer. The Knights of Pythias, for instance, donated $1,000 to help make the dinner a happy reality. There were many others who deserve recognition and they'll get it next week when Ginger issues her annual thank you to everyone involved.
Here are a few photos from this year's dinner: