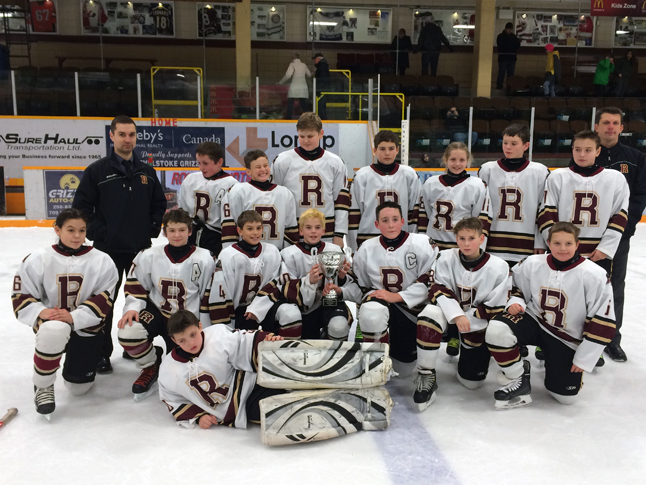 By Alex Farrugia
The Revelstoke Pee Wee Rep Team had their home tournament this weekend.
With the crazy weather, one team from Calgary cancelled at the last minute requiring schedule adjustments and the other Alberta Team struggled through road closures arriving 4 hours later than planned
All the teams were terrific and adapted graciously to the scheduling changes.
Teams came from Lake Bonavista (Calgary), 100 Mile House, Penticton, Trail, Kamloops and Kelowna.
After 2 days of round robin play, Revelstoke was undefeated and met 100 Mile House in the semifinals where there was great hockey played by both teams.  Revelstoke came out on top with a score of 6-4 advancing to the final.
The final game was Revelstoke vs Kelowna.  Kelowna was able to get up 3-0 at the end of the first period but Revelstoke battled back and it was 3-2 Kelowna at the end of the second period.
The players left it all on the ice and the Revelstoke Pee Wee Team should be proud of their excellent sportsmanship and effort taking the Silver Trophy with a final score of 5-3 Kelowna.