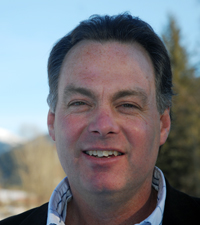 The decisions made by government have real consequences in people's lives. And when those people are on a fixed income, those government decisions can be devastating.
Many people in our communities live on fixed incomes; seniors on fixed pensions, persons with disabilities. With no increase in their incomes, escalating costs such as BC Hydro rates leave many of our citizens forced to decide whether to heat their homes or to buy groceries.
Why is the government to blame? It's very simple. Government interference in BC Hydro resulted in this crown corporation being forced to spend $55 billion on power that they didn't need. Private power producers received very lucrative, long-term contracts from BC Hydro which will funnel public money into private hands for decades to come.
This is entirely the result of the BC Liberals' Energy Plan. The consequences of this plan were completely predictable.
Power to light and heat our homes is as necessary as water and sewer. We do not have the option of saying no to power. And more and more of our monthly budgets are being used up to provide this need.
If you receive $906 per month as a person with a disability, how can you pay even more for power? What must you give up to be able to keep your family warm in winter? How many seniors are being forced to turn down their thermostats and turn off their lights?
I don't accept that this is the type of society that people in this area want to have. I don't believe that people who are in reduced circumstances due to no fault of their own should have their lives so diminished to fulfil the government's heartless agenda.
Part of being your MLA is to hear the stories of your lives. As we head into winter I am hearing so many personal stories of people who are in this exact situation, choosing between heat and food. This is the real consequence of this government's very bad decision.
This is why I support the Hydro Affordability Act which was introduced by the Opposition. This legislation would give the BC Utilities Commission the ability to set lower rates for families and seniors on fixed incomes. If you agree, take a moment to send an email to Premier Clark at premier@gov.bc.ca.
You can reach Norm Macdonald MLA Columbia River Revelstoke at norm.macdonald.mla@leg.bc.ca | 1-866-870-4188