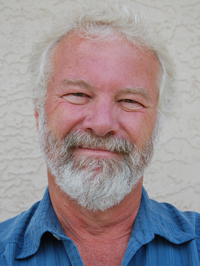 If you are, like me, enchanted by the annual spawning migration of ruby-red Kokanee to Bridge Creek you were doubtless dismayed when they disappeared from view in 2012 and 2013.
Like me you may have thought their disappearance was due to environmental pressures or, perhaps, that landslide high above the creek on the slope of Mount Revelstoke.
In fact, the culprit was not rooted in natural processes but human activity.
According to Rod and Gun Club members someone placed mesh screens at the mouth of the creek thereby preventing Kokanee from entering the spawning channel. Bear Aware Coordinator Sue Davies says the Rod and Gun Club members apprised her of the situation as well but she has no idea who would do such a thing.
Screens were found in 2013 and again earlier this fall. Both times they were removed and that is why, if you go down to Bridge Creek today you'll see some — But not many; only seven were there last week — of the excitedly darting males and females. However, they are not in the spawning pools down by the Illecillewaet but near the culvert that guides the creek beneath Powerhouse Road.
Who did this and why is anybody's guess but regardless of their motivation their actions are wrong on a number of different levels:
It is illegal to interfere with spawning salmon. The Fisheries Act prohibits any action that prevents fish from using spawning grounds. That would seem to include using screens to stop them from entering the creek;
It is morally wrong to interfere with Nature for no good reason; and
It is offensive to attempt to destroy a natural event that is significant to local culture.
Who gave this person the right to deny Kokanee the right to reproduce? Who gave this person the right to deny Revelstokians to pleasure of watching this natural event? And finally, what lesson does his, or her, action teach our children? This person, whoever he or she may be, obviously does not understand that the undemocratic, unsanctioned imposition of one's will on others is completely unacceptable.