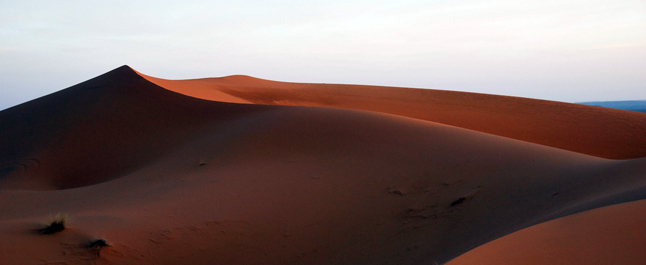 Spicy Eggplant, Pepper and Tomato Sauce on Garlic Toast with Goat Cheese
Ratatouille with Butternut Squash, Yellow Peppers and Yam
Harvest Chutney
Ras el hanout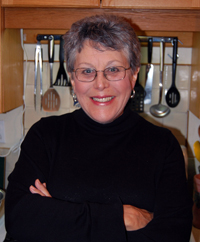 A year ago I went on a cookery trip to Morocco, in October. It was a foodies' delight: river valley tracks through ancient orchards where pomegranates and peaches were falling ripe from the trees; market stalls full of fresh dates and olives in huge conical mounds; arugula and mint piled high, aroma competing with the smoke from charcoal braziers cooking lamb kebab; and less appealing but most interesting, the sight of hundreds of Berbers bringing sheep to market for the Eid celebration, and townfolk thronging over the rough roads with vehicles of every kind—from trucks to wheelbarrows, in which to cart their live sheep home for the slaughter that celebrates Abraham's sacrifice of a goat instead of his son, once God had forgiven him his misdeeds.
The whole trip was an exploration of a part of the world about which I knew nothing: mesmerizing souks, astonishing light, wonderful art, interesting and unique culture, and hands-on cooking classes almost every day. I even spent a night in a Berber tent after riding camel across desert dunes.
The recipes for this week are Moroccan style veggie stews featuring local fresh vegetables that appear in our own markets as well as in those of Morocco: red peppers huge and gnarly, compact Roma tomatoes, large white sweet onions as well as the red ones, eggplant robust and royal in their gleaming purple coats, zucchini bright yellow as well as green and striped, yams, squashes (sometimes called pumpkin, but more resembling our butternuts.) The souks were full of great bushels of greens—arugula, mint, basil, lending a permanent aroma somewhere between kitchen and meadow.
We were there the week of the Eid, when Muslims celebrate Abraham's sacrifice at God's command of a goat instead of his son Isaac, and watched hundred of Berber farmers bring their sheep to market to be sold to buyers who carted them home in every vehicle type known, from trucks, to wheelbarrows, or even over their own shoulders. In our cooking classes, the veggie dishes were invariably prepared in a tagine, the cone-shaped earthenware pots sold by the
thousands along Moroccan roadsides everywhere. You can buy a stonewear tagine at Big Mountain Kitchen and Linen.
While the tagine makes things look more authentic, and steams food to tender succulence, you can get a quite similar result using a large wok with a cover, or even a stainless steel deep straight-sided pot.
The dishes we made in cooking classes featured meat, chicken or fish. Most called for ras el hanout, meaning "head of the kitchen," a mix of spices that has become almost synonymous with Moroccan food. (See recipe below.) Cinnamon and cloves are often used alongside garlic and chili; one Moroccan festive dish, chicken-almond pastilla, is a headily rich mix of warka, or phyllo-type pastry wrapped in many sheets around layers of spiced chicken, egg, and sweetened ground almonds—the Western aversion to sweet and savory in the same dish being unknown in Morocco, as in Asia.
Both of these vegetarian stews make a supper that's flavourful, robust and satisfying. In Morocco, they would be served over couscous, or rice.
In BC, you can buy Moroccan style couscous — the original kind, tiny seeds of durum wheat pasta — as a President's Choice item. However, the secret to Moroccan couscous is three sequential steamings, alternating with hand-tossing with oil and water—a process I can't see too many mums in Revy replicating.
A simpler method of serving these veggie dishes is to toast a few thick slices of La Baguette's garlic sourdough focaccia, add some of Tim Dolans (http://www.dolanhomedelivery.com/) Happy Days Organic Goat Cheese from Salmon Arm, top with a generous dollop of Harvest Chutney.
In Morocco we drank excellent wine — the French colonial influence has had effects both good and bad on the country as a whole, but certainly one benefit is the cultivation of vines for a sophisticated wine industry. For abstainers, sweet mint tea is the answer. Here at home, I served up our homemade Cab Sav from Revelstoke U-Brew. But with the highly flavoured dishes, a cold beer also goes down well.
The Moroccan salad accompaniment would be a fresh chopped salad of cucumber, tomato, red onion and parsley, drizzled with Argon Oil and lemon, with a handful of olives. Alternatively, for an easy crunch, a nice cold slaw does well. I use the packaged slivered cabbage in bags from the supermarket, as I cannot slice the cabbage finely enough myself. Plain Greek yogurt with lemon juice and white balsamic is a healthful substitute for mayonnaise. A teaspoon of sweetener or honey brightens the flavor with sea salt and freshly ground pepper as finish.
Spicy Eggplant, Pepper and Tomato Sauce
Serves 4  for supper or 6 as a dip
This works as a lunch or supper dish. I call it sauce because it isn't a dip or a spread, nor is it really a stew. The texture is not mush, although the eggplant does go soft; you should be able to see and taste the tomatoes and peppers. Team it with goat or other fresh cheese, and some chutney, and you have it all — sweet, sour, salt, bitter — all in one glorious dish.
This dish works best if you roast the eggplant ahead of time — even a day ahead, if you have the oven on for something else. You can roast the peppers too, in order to remove the skins, but this isn't strictly necessary and I'm lazy enough to make as little work as possible. However, the roasted peppers will be softer and easier to digest if you remove their skins. (Blacken the peppers in the oven, then let them cool in a paper bag and the skins will peel off easily.)
1 large eggplant
2 large red peppers
½ a Walla Walla onion (big sweet white onion)
6 fresh tomatoes
4 large cloves garlic
1 jalapeño pepper
1 tbsp canola oil or other veg oil
juice and zest of 1 large lemon
1 tsp cumin
2 tsp ras hanout or chili powder, to taste
1 tsp Mrs. Dash seasoning
½ tsp fresh black pepper
Heat oven to 350°. Put eggplant on a baking dish lined with foil (for easy cleanup) and bake the eggplant for about an hour or until you can poke it easily with a knife. Remove from oven and let cool for an hour or more.
Meanwhile, peel and slice the garlic cloves and the onion; slice red peppers and the jalapeño; cut the tomatoes into eights, making pieces about an inch square.
Heat oil in a deep sided saucepan or large flat pot. Into this put the onions and garlic; stir fry for 8-10 minutes until onions begin to brown; add the peppers and continue to stir fry.
Cut the eggplant in half lengthwise and scoop out the flesh; chop it roughly and add it to the peppers and onion.
Add the cumin, ras el hanout, the lemon juice and zest, Mrs. Dash, and the black pepper.
Cover and let simmer, stirring often, for about 20 minutes. Test for seasoning.
Serve piled onto garlic toast. La Baguette in Revelstoke sells a great garlic olive focaccia with whole big garlic cloves in the dough. Otherwise, get sourdough bread and slice it fairly thick. Chop a whole bulb of garlic in half and microwave in a small bowl, covered, for 40-60 seconds; squeeze out the cloves of garlic into a bowl and mash them; mix with a little butter or oil and spread onto the toast.
Add small dollops of goat cheese and serve with Harvest Chutney, below. A handful of th Moroccan olives now available at Cooper's deli/cheese counter is a nice addition. They are black and smoky and a little dry, but the flavor perfectly sets off the natural sweetness of the veggies. I have found it tough to find vegetarian dishes that are packed with flavour and carry a really "schmeky" yumminess, without either legumes or tofu (as I can't do legume and my spouse dislikes tofu.) But this dish really does make it.
Moroccan Ratatouille with Butternut Squash, Yellow Peppers, and Yam
Serves 6 as a main course, with rice or couscous.
The visual appeal of this dish depends on the colour of the veggies, the size of the dice you cut them into—about an inch squarish— and the length of cooking time for all. You want each cubed veg to retain some shape while being thoroughly cooked but not mushy. You can add other veggies to the mix, as available. However, be careful of the colour factor: kale or other greens will turn the whole a hideous puce.
Cut up all the veggies before you begin. Peel the carrots and the squash, and of course the onions. Then cut everything into fairly large chunks. In Morocco, the carrots are often left whole and the peppers quartered, no more. This is partly because at traditional meals, flatbread still serves as a utensil—along with one's right hand, and the bigger pieces are easier to manage.
4 tbsp canola oil
2 small onions
1 whole head of garlic
1 large red pepper
1 large yellow pepper
2 large carrots, peeled and diced
1 jalapeño pepper
1 tiny hot red pepper
½ a butternut squash
one eggplant, two if they are the long Japanese variety
1 medium or 2 small zucchini, preferably yellow-skinned, or 4 yellow patty-pan squash
2 tomatoes, medium, yellow if possible, or 1 cup grape tomatoes
1 yam
1 tbsp Diana's Original BBQ sauce (or ketchup)
1 tbsp ras el hanout
½ tsp sugar
1 tbsp white balsamic vinegar
1 cup water
Cut the head of garlic crosswise in two, and roast it in the microwave for 1 minute. Cool until you can handle it.
Squeeze the garlic cloves, now soft and mushy, onto a board and chop roughly.
Put 2 tbsp oil into a large, sturdy stainless steel pot. Add the garlic, chopped onions, jalapeño and red pepper. Stir fry 5 minutes. Add the chopped red and yellow peppers. Stir fry another 5 minutes.
Remove the stir fried veggies from the pot into a bowl, reserving as much of the oil as possible in the pot. Add the rest of the oil, and stir fry the carrot, eggplant, zucchini, butternut squash and yam for about 5 minutes.
Return the onion/pepper mix to the pot. Add the tomatoes, seasonings, and the cup of water. Cook on the stove for another 20-30 minutes, or until the veggies are soft but not mushy, and the water has been absorbed.
Serve on couscous, or with garlic toast, rice, quinoa or noodles. Add chopped green onion as garnish, or chopped cilantro.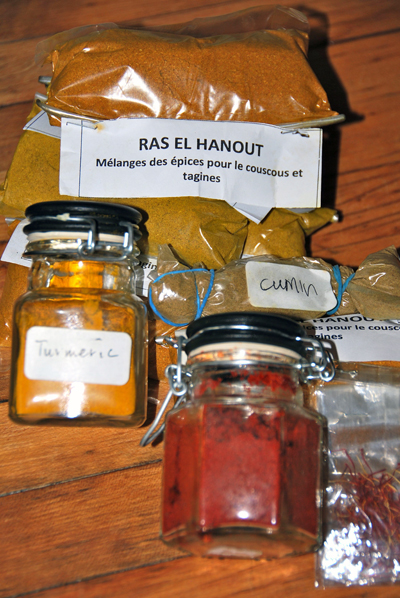 Ras el Hanout
This Moroccan spice is sometimes sold just by that name. Every chef in Morocco has their own version, but this can also be purchased in bulk in the markets, alongside big bags of all the spices known I think to man or woman.
1 tbsp ground cumin
1 tbsp ground ginger
1 tsp ground black pepper
1 ½ tsp cinnamon
1 ½ tsp cayenne pepper
1 ½ tsp allspice
¾ tsp ground cloves
Mix all together in a bowl and store in an airtight jar up to six months.
Harvest Chutney
This recipe makes a fruity but garlicky chutney that's great with cheese, bread, meats or chicken, and gives a boost to other veggies. If you want hot chutney, add a finely sliced bird pepper or two, or some red pepper flakes.
For general directions about making and canning chutney, see Archives, September 2013. You can make this recipe and not can it, in which case you could freeze it or give away all you don't eat. This recipe makes about 5 cups.
At the rate we eat this stuff, despite diabetic sugar restrictions, it's sometimes unclear why I bother canning, but it was lovely to find some on the shelf that I made a year ago.
2 heads garlic
3 apples, peeled, cored and and chopped
4 peaches, peeled, cored and chopped
1 cup chopped onion
12 plums, stoned
1 cup brown sugar
1 ¼ cups cider vinegar
¼ cup balsamic vinegar
1 tbsp freshly grated ginger root
½ tsp each allspice and pickling salt
¼ tsp ground clove
Chop garlic heads in half across the buds and microwave for 1 minute each; let cool slightly, then squeeze the cloves out of their shells. Chop and mash.
Put all ingredients in a deep, large stainless steel or enamel saucepan. (Aluminum will stain).
Bring to a boil over high heat, stirring frequently.
Remove any froth or scum that appears (this comes from impurities in the sugar.)
Boil, gently, for about 30 minutes
Remove from heat. Ladle into prepared canning jars, or into 2-3 large mason jars for refrigeration.
If canning for posterity, use method suggested in Sept 2013, Savage Delights.
Health note
The Spicy Eggplant recipe is a better choice for anyone suffering from kidney disease. Yam and butternut squash are on the medium to high list for veggies containing potassium, which those with CKD should avoid. Eggplant is a medium-potassium food. Both recipes are excellent choices for those with heart disease or diabetes. Both are gluten-free and low in sugars.
Travel note
Our guide in Morocco was Youssef Khalfaoul, email khalfaoui1@yahoo.fr and the tour company was Access Trips. I include these here for your information only — The Revelstoke Current and Savage Delights received no fare concessions on this trip. The tour company was Access Trips, http://www.accesstrips.com/sports/moroccan-cooking/. I recommend both Youssef as a guide, and Access as a tour company. Youssef speaks English as fluent as mine, is knowledgeable about his own country and world affairs, and manages to be both a highly competent scout leader and MC with grace, aplomb and humour. There were 11 on our trip, and every day was a delight. A tour with a focus attracts reasonably like-minded travellers.
Here, just for fun, are some photos from Leslie's trip to North Africa: