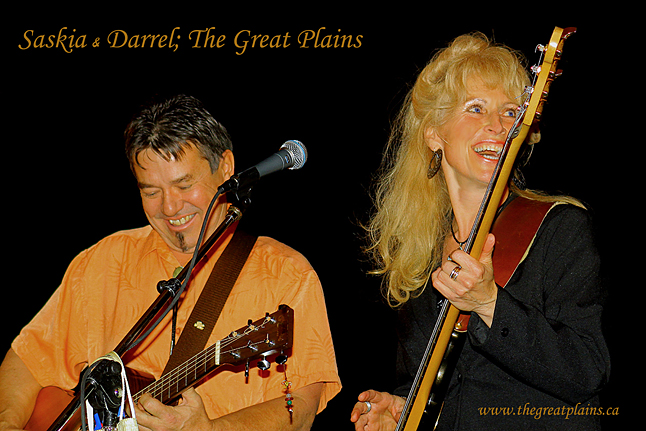 Even though Saskia Overbeek and Darrel Delaronde no longer here they are still considered true locals and an integral part Revelstoke's cultural fabric.  They lived, raised their families, participated in musicals and fundraisers and played music in Revelstoke for well over 25 years before they moved away to Vancouver Island to pursue an even broader music career. Since then they have played up and down every highway and byway in Canada as well as a parts of western Europe with their all-Canadian show they call Song of the Prairies.
Now this terrific duo is coming back to town this Thursday, October 30, to release their new CD during a concert at the Seniors Centre, the partial proceeds from which go to the Community Connections Food Bank. The concert starts at 7 pm. For advance tickets and info please drop by Community Connections 314 – 2nd Street or call 250 837 2920
Saskia and Darrel perform an unpredictable, can't-miss blend of folk songs about prairie elevators, blue birds, war brides, Louis Riel, patchwork quilts, Major Rogers, David Thompson and more. Along the way they'll yodel or sing in Gaelic, Spanish, Dutch, German or French.
If you're new to Revelstoke you may appreciate knowing that Saskia and Darrel were awarded Top Folk /Roots Album in Holland; Artist, Album, and Songwriter of the year from SCMA, received Top 5 People's Choice Awards and have enjoyed many years of airplay on CBC, CKUA  and top indie folk/roots charts in Canada, the USA and Europe.