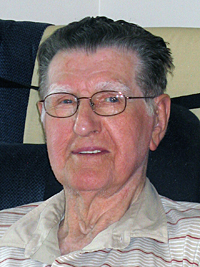 We regret to announce the passing of John Lawrence (Larry) Streeter of Vernon on October 16, 2014 at the age of 85. Prayers will be recited from St. Francis of Assisi Catholic Church, Revelstoke, on Friday evening, October 24, at 7 p.m., followed by the Mass of Christian Burial on Saturday morning, October 25, at 11 a.m. with Father Aaron de Dios celebrant. Interment of Larry's cremated remains will take place at a later date in Vernon. In lieu of flowers, memorial contributions may be made to the Revelstoke Cancer Support Group, c/o Revelstoke Credit Union, Box 989, Revelstoke, B.C. V0E 2S0, in memory of Larry.
Larry was born on November 22, 1928, in Edgewood, B.C. and lived most of his life in the Okanagan and Revelstoke areas.
Larry and Agnes moved to Revelstoke in August 1962 where they resided until his failing health precipitated a move to assisted living in Vernon in May 2013, then onto complex care.
Larry was a very quiet but dedicated man who gave many hours to his community. He was involved with the Revelstoke Snowmobile Club for many years. He was a groomer for the snowmobile trails where he loved to be up on the top of the mountain in the bright moonlit nights with the sparkling snow.
In earlier years he was also an auxiliary RCMP and a director for the Revelstoke Credit Union. Larry was also the coordinator for the PEP Program for 10 years.
His work took him all over the province with the Department of Highways bridge resurfacing crews, which meant spending a lot of time away from home and family. There are many roads in the province that have his footprint on them as well from his road construction days. He was a grader operator prized by many a road builder.
In Dad's 83rd year, an incredible accomplishment by his daughter Elaine was to find his extended family, whom he had never known. Numerous new found cousins of Dad's were able to visit from Alberta and northern B.C. to finally meet him as well.
Larry will be greatly missed by his loving wife Agnes of Vernon; son Leonard Streeter of Revelstoke, son Donald Streeter (Nola Carter) of Fraser Lake, B.C., daughters Marlaine (Cyril) Cooper and Elaine Kraft (Stephen Woolsey), both of Vernon, B.C.; grandchildren Lindsay Goettemoeller (Matthew) of Lumby and Dr. Jamie Kraft of Vancouver, their dad Peter Kraft; Bradley Cooper of Christchurch, New Zealand, Maureen Streeter of Edmonton, Alberta, Russell Streeter of Fort McMurray, Alberta as well as great grandchildren Jackson, Colter and Shiloh Goettemoeller.
Messages of sympathy may be sent to Larry's family by viewing his obituary at: www.brandonbowersfuneralhome.com.
Cremation arrangements are in the care of Brandon Bowers Funeral Home, Revelstoke.