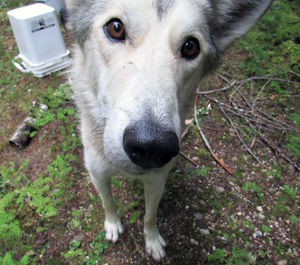 Talk about cold-blooded. A man who was out with his husky-cross pet named Ollie was horrified when a man with a rifle wantonly shot the dog on Wap Lake Road near Three Valley Gap then fled in a pickup truck.
A statement from RCMP Cpl Thomas Blakney said the incident occurred on Saturday, October 4, at about 1 pm.
"An adult male described as Caucasian, late twenties to mid-thirties, short dark hair with a few days growth of facial hair, wearing dark clothing and a baseball cap was observed getting into the driver's side of a pickup truck with a firearm and then fled the scene as the (dog's) owner frantically gave chase on foot.," the statement said.
The truck was described as a two-door black Chevrolet short-box from the late 1980s or early '90s with a tonneau cover and tinted windows. The truck appeared to be well taken care of and had a distinctive chrome grill.
"Although Ollie was transported to a local veterinarian, he later succumbed to his injury, believed to be from a single gunshot," Blakney said. "Revelstoke RCMP are continuing to investigate this incident."
If you have any information about this or any other criminal act please call the Revelstoke RCMP at 250-837-5255 or Crime Stoppers at 1-800-222-8477.