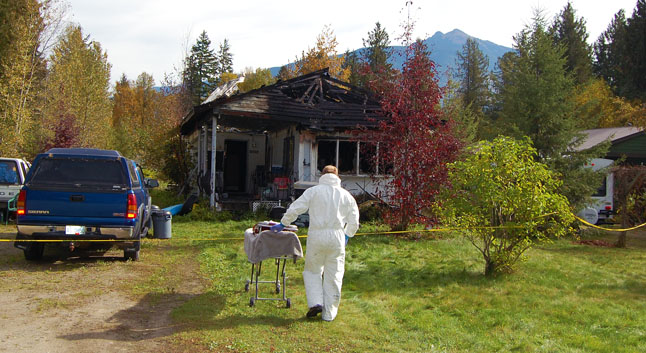 By David F. Rooney
A local man, identified by family members as 49-year-old Tim Butcher, died in an early-morning fire at 1095 Lundell Road in the Big Eddy on Thursday, October 9. 
"With great sadness family and close friends regret to inform that Tim Butcher, age 49 ,a long-time resident, volunteer and great friend to many in Revelstoke tragically passed away this Thursday morning October 9 in a house fire," the Cocciolo family said in an e-mail to local news media. "The family respectfully asks for privacy at this time."
The fire began at about 6 am and firefighters, who had already been responding to another fire on Temple Street — a 6×6 railway tie beside a garage that caught fie due to smokers' materials — rushed across town to the Big Eddy neighbourhood.
"Upon arrival the home was partially engulfed in flames with the neighbours using a garden hose to assist in putting out the fire," said a statement from RCMP Staff Sgt. Kurt Grabinsky.
"Once the structure fire was extinguished and the home was safe to enter, (firefighters)… discovered a deceased adult male. Revelstoke RCMP is currently assisting the BC Coroners Service along with forensic investigators to determine the cause of the fire."
Fire Chief Rob Girard said the service responded to the fire with 26 firefighters, three engines and two command vehicles. No firefighters were injured.