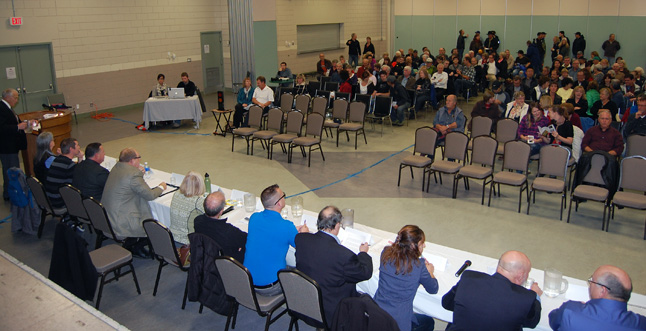 By David F. Rooney
The only thing known for certain after Wednesday night's All-Candidates Forum is that the 12 men and women running for Council all love Revelstoke and want to give something back to the community.
Beyond that they all made it clear on October 22 that they stand for slightly different things and have slightly different opinions regarding the challenges facing this city of 7,000 people. However, some of those differences were quite telling.
Between 200 and 300 people attended this All-Candidates Forum and paid close attention as individual candidates were asked to respond to 15 questions sent by members of the public to The Revelstoke Current, Revelstoke Times Review and the Chamber of Commerce. Except for three yes-or-no questions that everyone answered, Moderator Geoff Battersby drew names from a jar to determine who would answer which question. Here's a condensed version of the questions and candidates' answers:
What is your position on Development Cost Charges (DCCs) and do you think they achieve the intended purpose? Are they a help or hindrance to economic growth in the future?
Aaron Orlando said that in a weak economy DCCs constitute a drag on economic development.
How do you see Council supporting Arts and Culture in the future?
Linda Nixon did not actually answer the question saying only that the Tourism Infrastructure Fund has been a boon to some arts programs.
Do you think the City receives the value for money with consulting services?
Chris Johnston said it's a bit of a crapshoot. "Do we get good value for our dollars? Sometimes yes; sometimes no." Like ordinary employees, some consultants give you 110% and others don't.
What do you think the City's top 3 infrastructure priorities are? Chuck Ferguson never really got around to naming three projects, but he did identify the Big Eddy Waterworks as a major concern.
How do you think the City should address the issues of the Big Eddy Water System? Trevor English said the City cannot leave citizens without clean water.
What is your understanding of the reason for the Affordable Housing project being stalled? Are you supportive of this type of project? George Buhler said that housing affects a lot of people and while there may be a role for the City in helping provide that he is not in favour of it.
What do you think the City can do to attract businesses that pay a living wage? Karen Powers said the ability of business to pay employees a living wage is important, as it will affect Revelstoke's ability to attract families but indicated that the issue requires further study.
The City occasionally has difficulty attracting citizen participation on City committees; what do you think we could do to rectify that situation? Steve Bender said he did not believe the City has trouble attracting new committee members.
What steps can the City take to attract full-time families to our community? Scott Duke tackled this question and argued that helping create a better economy with "great employers" that pay a living wage will help Revelstoke attract and keep young families.
What City services would you eliminate to reduce the budget? Connie Brothers answered this zinger by arguing in favour of a core services review and/or directives to individual municipal departments calling for specific spending cuts of, say, 5%.
What should the City do about the golf course? Gary Sulz offered two possible solutions to the Gold Course question: A real marketing strategy intended to attract out of town golfers; and approaching RMR to see if it can help by combining golf course marketing with its own.
How can the City enhance support for local business and RMR? Gary Starling said that helping the resort grow would act as a magnet to bring new businesses and families to town. There have been irritants in the City's relationship with the resort but it is here to stay and he believes the resort's success will have a positive impact on Revelstoke's general prosperity and attractiveness.
There were also three simple Yes-or-No questions.
The first asked candidates if they would "be supportive of an annual Gay Pride Day in Revelstoke? Most candidates told the Chamber of Commerce-organized forum that they would support a request to declare a Gay Pride Day — no parade; just a day. However, George Buhler, Steve Bender and Trevor English declined to answer the question.
The second question asked candidates to say if they would support measures to extend service hours to make public transit more useful to commuters who relay on it. Gary Starling and Connie Brothers declined to answer but everyone else said yes.
The third question asked if candidates would take steps to simplify the budget presentation so that the public is more engaged? Everyone agreed that was a good idea.

Fifteen people asked questions of the candidates using the microphone set up on the floor.
Kayleigh Robson kicked off the Q&A by asking if residents can expect a more transparent Council. Chuck Ferguson told her Council should be more accountable to the public.
Doug Hamilton asked if Council could actually build a sidewalk along Sixth Street East — something residents of the neighbourhood have been demanding for years. Steve Bender agreed that it should be done but noted, "We just have to find a way to do that."
Michele Cole asked about the top three social priorities in town. Linda Nixon replied that the plight of the working poor, the cost of food and transit system limitations are at the top of her list of social sector priorities.
Greg Hawker was asked if there was some way to improve the way that building inspections are undertaken. Chris Johnston said there probably is and encouraged Hawker and others to make specific suggestions to the City.
Peter Humphreys, locally famous for the sign that the City forced him to put away, asked about — No surprise here! — signage and specifically polled all candidates if they would permit signs like his to return. Chris Johnston, Gary Starling and Linda Nixon each said "No." Steve Bender declined to answer but the rest said yes, including Gary Sulz who said he would vote yes but "only if you get a full set of letters."
Peter Bernacki asked if the next Council would do more to draw on the expertise of local citizens. Trevor English said Council should draw on residents' expert knowledge
Gabe Taylor's question about communicating with the public prompted Connie Brothers to note that "it is important for Council to own up to its mistakes" and do a better job of communicating with the public.
Jody Simms, who once took his own shot at Council, wondered if tax incentives could be used to attract new business and industry to town. Gary Starling said Council had considered the possibility of a tax exemption but swiftly learned that such a boon "is extremely complex and must be approved by the Province."
Joe Verbalis asked about the redressing the imbalance between the business and residential tax rates. The mill rate works out to about 4:1, meaning business property owners pay roughly four times as much as residential property taxpayers. Scott Duke called this a "really difficult challenge that needs to be addressed" and noted that the provincial average is about 2.5:1. He suggested that expanding our population and bringing more business to town would probably help do the trick.
Victoria Long asked if there is any advantage to so-called strategic voting, which means voting for one, two or three candidates only but not the rest. "I've heard of people doing that," said Karen Powers. "You should pick the people you want to see on Council; don't play little games by voting for just one person."
Shaun Aquiline asked one of the most novel questions: Can the City create an off-leash dog park… perhaps at the end of Powerhouse Road? Gary Sulz suggested that the idea bears investigating. "I'm all for a place where dogs can run free," he said.
Annie Hewitt voiced the concern many young people have about affordable housing and low-paying jobs. She noted that she has two or three jobs on the go and lives with roommates. She often feels that she is just treading water. "How can you help people like me?" she asked. Aaron Orlando suggested that action could be taken to improve the housing stick and said it may be time to better promote the creation of basement suites.
Fred Beruschi asked all of the candidates to describe themselves in just two three words. Unfortunately they responded so quickly I could not keep up. So, sadly, you don't get to hear what they thought of themselves.
An unidentified woman wanted to know what is being done to assist seniors, to whom Linda Nixon said the Community Response Network directed by Stephanie Melnyk provides lots of support to seniors and their families.
Paul Moore asked if the incumbent candidates have a clear vision for Revelstoke. Linda Nixon said Revelstoke is a place that welcomes families and actively supports them. Gary Starling said he thinks Council wants the community to be something that is attractive and inclusive for all. Chris Johnston said the City's formal vision, that "Revelstoke is a community that embraces diversity and equality. People of all ethnicities and cultures are welcomed, valued, included and supported" probably needs updating.
After that each candidate was given three minutes to sum up.
One unfortunate note is that this forum was not recorded for broadcast on RCTV. And while it was being streamed online, the people streaming it were using the Okanagan Regional Library's wifi to do that. At least they were until 9 pm when Community Centre staff turned off the power to the library thereby killing the wifi signal. Consequently the stream was not saved and now cannot be viewed.
If RCTV is not going to record the Mayoralty Forum in the Seniors' Centre on Tuesday evening, October 28, The Current will record that event and post it online the following day.