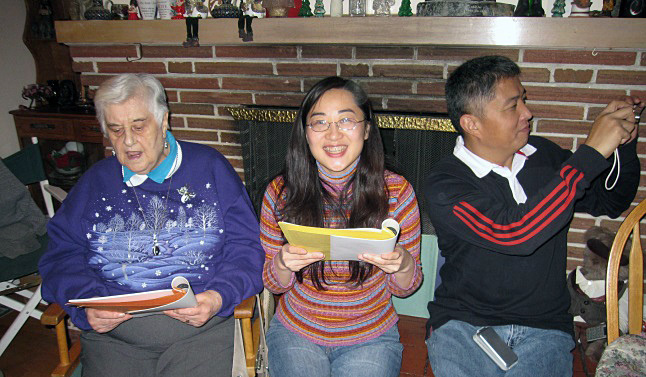 By Laura Stovel
As the leaves begin to turn colour and a morning chill fills the air, preparations will soon begin for the feasts of autumn and winter. Thanksgiving and Christmas are coming up quickly. This is a time of celebration and generosity, a time to share the abundance of the harvest with friends and family – and perhaps to reach out to new residents who may be alone or who may not know our local traditions.
Some of my favorite memories when travelling abroad have come from holiday celebrations, when friends in another country made the effort to host me in their homes, share their food and music with me and explain their traditions. Christmas in Finland and Tihar (festival of lights, also known as Diwali in India) in Nepal became pathways into societies I lived in because locals chose to share their customs with me.
Grateful for these experiences, my family and I have made an effort to include new immigrants in our celebrations. Every December 23rd we host a Christmas caroling sing-along and light dinner at our home and we enjoy including newcomers among our guests. Our new friends enjoy learning new songs and trying new dishes and they often share songs and food of their own. We often invite them year after year and they become part of the family and our group of friends.
This year, Okanagan College, through Jill Pratt, coordinator of Revelstoke Settlement Services, is connecting newcomers with residents who might like to host them for a holiday dinner or event – or even include them in a Thanksgiving or Christmas potluck with friends.
As Pratt observed, "By hosting a newcomer into your home for a holiday meal you can share your traditions and help a newcomer to feel welcomed. You also have the opportunity to learn from the newcomer because they'll share their experiences and traditions with you."
If you are interested in being a host or if you would like to be hosted, please e-mail Jill Pratt at jpratt@okanagan.bc.ca or phone 250-837-4235 x 6502.