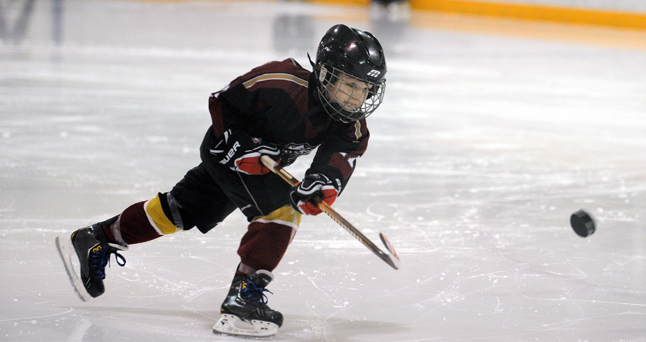 By David F. Rooney
Troubled by declining registrations over the last few years, the Revelstoke Minor Hockey Association is exploring creative new ways to make its hockey more attractive to potential young players and their families.
"We're seeking ways to make the game more affordable and a lot more fun for the kids and their families," RMHA President Kevin Grimm said in an interview on Wednesday, September 10.
He said the game suffers from public misperceptions about its costs and from an inflexible approach to player commitments that turn off many kids.
He knows whereof he speaks as his middle son Ryland quit hockey to concentrate on freestyle skiing.
"It wasn't fun for him any more," he said. "He was a good player, a fast player but then one day he said he… wanted to ski."
Grimm said his oldest son, Peter, and youngest, Sawyer, continue to play and love the game, which just goes to show similar and yet how different brothers can be.
Regarding the cost of playing hockey, many parents fear that equipment demands and out-of-town game commitments will break family budgets. But those fears are erroneous, Grimm said.
Registration costs $500-$570, depending upon the program, and then there is the cost of equipment. Sure, you can spend a lot on new equipment but used kids' hockey gear is available and that is an easy way to keep costs down. Registration for Revelstoke Ski Club programs ranges from $450 to $1,750 depending on the age group and date of registration. And there is nothing cheap about ski equipment.
The association is looking at ways to keep costs down for kids who want to both ski and play hockey.
This year and next first-year players up to the Novice level can register for $100. This would allow them to play hockey until Christmas and, in the New Year, go ski, if that's what they want to do.
"That's what other communities have done," Grimm said. "We need to find ways to keep it affordable."
The RMHA is also going to approach local banks and the CPR for grants and other forms of assistance. As well it may change the way it conducts fund-raising campaigns to ensure that participating families get a direct benefit from their fund-raising efforts, as opposed to simply seeing the money get sucked into the association's revenue stream.
Finding the right formula that keeps hockey alive is critical.
"We have been holding on over the last few years," Grimm said, adding that this year there are about 60 kids enrolled in the RMHA's programs.
That's down from 2012 when there were 80 boys and girls playing hockey and down from 90 in 2009.
The RMHA program is about a lot more than just playing a game on ice. It teaches kids about the value of competition, commitment, friendship, cooperation, loyalty and hard work.
"We want them to learn that playing a team sport like hockey teaches you how to achieve important goals," he said.
That's not just empty rhetoric. Revelstoke has produced its fair share of athletic success stories like Aaron Volpatti, Jeff Jones and Riley Hunt and up-and-coming young male players like Nii Noi Tetteh, Seth Bafaro, Josh Pilon, Louis Federico, Peter Grimm, Ullar Wiatzkia and Keyon Bittner. Local hockey has produced notable female hockey players, too, like Abby Vigue and Kelsey Harder.
These are young men and women who have, with the right coaching, become notable athletes.
"And it's not just their athleticism," Grimm said. "Aaron Volpatti studied human biology at Brown University and Riley Hunt is at Harvard. That goes to show they know how to achieve their goals."
Hockey mom Krista Cadieux says hockey is worth every penny she spends to put her son Loucious on the ice.
"If you're going to support your kid you're going to do what you can to help them succeed," she said. That means buying equipment, helping fundraise and going to the games.
Another facet of the game that the RMHA is discussing is hockey's attraction for young girls. Women's hockey is a hot sport and the huge success experienced by the national women's team has generated a large following among both men and women.
So far there are just six young girls playing on local teams, but that's up from four last year and zero four years ago.
RMHA Director Dawn Howe thinks the time may be right for an all-girls team.
"I think more little girls will come out to play if they don't have to play with the boys," she said, noting that some other communities within the Okanagan Mainline Hockey Association have started all-girl teams.
"The time may be right."
All things considered hockey is far from being the dying sport some people think its is. What are needed are new ideas and fresh approaches that are attractive to local boys and girls and their families.