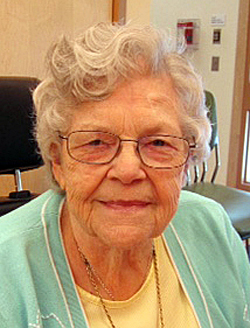 Mildred Alice "Millie" Ashton passed away at Mt. Cartier Court Extended Care, Revelstoke on Monday, September 22, 2014, at the age of 81 years. There will be no formal funeral service by Millie's own request. In lieu of flowers, memorial contributions may be made to the BC Children's Hospital, 4480 Oak Street, Vancouver, B.C. V6H 3V4, in memory of Millie.
Millie was born in Mirfield, West Yorkshire, England on June 27, 1933, and had been a resident of Revelstoke since 1997. She immigrated to Canada in 1971 and lived in Kamloops, Parksville and finally Revelstoke.
Millie enjoyed spending time with her family. She was very proud of her 3 grandsons and overjoyed when her great granddaughter was born. Millie also enjoyed reading and in the past knitting, counted cross stitch and making cards. She made some beautiful counted cross stitch pictures that her family will treasure.
Millie was predeceased by her husband Harold in 1995, one sister, Sylvia Parker and one brother-in-law Reg Parker. She is survived by two children: Elaine (Martin) Greenwood of Revelstoke and Graham (Laurie Nold) Ashton of Parksville; three grandchildren: Craig (Megan) Greenwood of Calgary, Darren (Jessica) Greenwood of Kamloops and Kevin Greenwood of Kamloops; one great granddaughter Emma Greenwood of Kamloops; two brothers: Raymond (Theresa) Waterhouse and Peter (Brenda) Jackson, all of Mirfield, England, as well as numerous nieces and nephews and several great nieces and great nephews.
The family would like to thank the staff at Mt. Cartier Court, Dr. Molder and Anne Marie Gill for their care, kindness and compassion shown to Millie.
Messages of sympathy may be sent to Millie's family by viewing her obituary at www.brandonbowersfuneralhome.com.
Cremation arrangements are in the care of Brandon Bowers Funeral Home, Revelstoke.