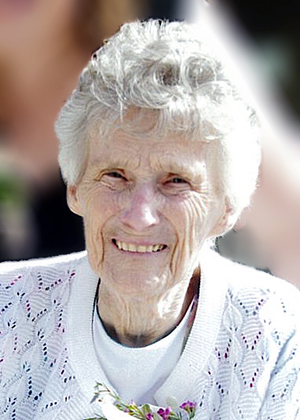 Ellen Mae Fuoco passed away at Queen Victoria Hospital, Revelstoke on Friday, August 29th, 2014 at the age of 82 years. A Celebration of Life Tea will be held at the Revelstoke Senior's Center on Saturday, September 20, 2014, from 2:00 to 4:00 p.m. In lieu of flowers, memorial contributions may be made to the Revelstoke Humane Society, Box 340, Revelstoke, B.C. V0E 2S0, or any local SPCA, in memory of Ellie.
Ellie was born in Golden, B.C. on July 27, 1932, and had been a resident of Revelstoke for over 70 years. She loved bowling in her early years, and doing crafts until the end. Family was first and foremost important to her. Ellie loved flowers, gardens and trains, which were her passion. She was an animal lover and the neighbourhood animals, and even passing wildlife were attracted to her generosity. Ellie always thought about others first and was generous to her neighbours, friends, employees and even the garbage collectors. Her home was always open to anyone and was a meeting place for the neighbourhood children. She was the self-professed matriarch of the neighbourhood and was always a constant friend for everyone who lived nearby. Ellie took a keen interest in her children's activities and was always present at their sports games. She was the sponsor and manager of the Fuoco Transferettes Ladies Softball team and enjoyed attending their games. Ellie was a wonderful host and together with her husband Jim, they enjoyed entertaining at many staff parties. She was proud of the fact that she had married the boy next door.
Ellie was predeceased by her husband Jim (Fitz) in 2003, sister Patsy Croswell in December, 2013, brother Roy Weidenman in February, 2014 and her parents Leo and Frances Weidenman. She is survived by five children: Barbara (Jim) Abel of Kelowna, David (Jacqueline) Fuoco of Surrey, Terry (Allan) Sutherland of Revelstoke, Karry (Jim) Dinsdale of Cranbrook and Tina (Bill) Wraight of Kelowna; seven grandchildren: Taylor (Nicole) Allen of Edmonton, Mandy (Brittney) Allen of Calgary, Montana (Jon) Marshall of Houston, Texas, Dakota (Sebastian Linde) Fuoco of Vancouver, Kristi (Nathan) Dorward of Revelstoke, Kyle (Heather Ramsay) Sutherland of Revelstoke and Kaylin Sutherland of Revelstoke; two great grandchildren: Jayden and Gavin Allen of Edmonton. Siblings: Marie Coueffin of Penticton, Eva (Vern) Shoenberger of Vernon, Beatrice (Ernie) Rayfield of Prince George and Norman Weidenman of Vancouver; sister-in-law Susan Weidenman of Port McNeil; numerous nieces and nephews; grand pets: puppies – Harley, Kway, Alvin, Charlie, J.D., T-Rex, Edgrrr and Hector, kitties: Seidi, Lily and Sadie; good friend Babs Defoe and many other friends.
Messages of sympathy may be sent to Ellie's family by viewing her obituary at www.brandonbowersfuneralhome.com.
Cremation arrangements are in the care of Brandon Bowers Funeral Home, Revelstoke.