By Natelle Fitzgerald
A huge amount of work is required to make a theatre production happen; acting, lighting, costume design, stage design, sound, marketing… the list goes on. This fall, 16 Revelstoke youth are taking up that challenge with Flying Arrow Productions, a new youth theatre and dance company. The youth, ages 12-18, will earn extra credits at school as they both star in and produce the play, Heritage, which premieres at the Revelstoke Performing Arts Centre on Oct. 24.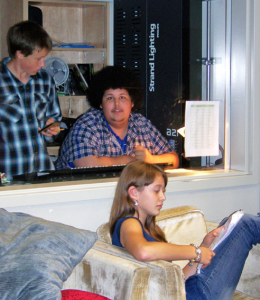 The new company, Flying Arrow Productions, is a youth initiative supported by Revelstoke Theatre Company. At its helm is instructor Anita Hallewas, a drama graduate and former high school teacher. "The whole premise is to mentor youth in whatever skills they want to achieve, whether it be acting or directing, lighting, sound or marketing," she says, "We match them with a mentor who helps to train them."
Each member of the young team has multiple responsibilities. Actors play an off-stage role as well as an on-stage one, helping with aspects of production such as marketing and set design. More experienced students help mentor younger ones. Along with the rewards of producing a large professional show, the students will also earn credits at school. While the school already has a drama program, Hallewas says there isn't enough time within the regular curriculum to put on a production of this scale.
Hallewas says she perceived the need for the project while working with Revelstoke Theatre Company. "Whenever we held auditions for a show that required a child or teenaged actors we were bombarded with kids turning out for auditions," she said in an interview. "Clearly kids wanted to be in shows, so we thought, why don't we do an all kids show?" The Revelstoke Theatre Company applied for a grant and received $9,500 through the Columbia Basin Trust last October. Flying Arrow Productions was born.
The script for the current production, Heritage, was selected by the youth last spring. It was one of several scripts available through the National Theatre's Connections Program. The program, sponsored by the UK's most prestigious theatre company, commissions professional playwrights to write scripts specifically for youth. Hallewas says this makes a difference in the quality of the writing and its appeal to young people. "Often times when people write plays for youth they're not professional playwrights; they're teachers or parents, so the result can sometimes be cheesy or patronizing. This play is really gritty. It's really good," she says.
The dark comedic script follows a group of young people in a fictional town as they practice a song for May Day celebrations. As the action progresses, a darker side of the town gradually reveals itself. Hailey Christie-Hoyle, a grade 10 student with acting experience in numerous productions, plays the female lead Lisa. She says the script provides an intriguing storyline with a wide variety of characters. "It's different from other plays I've done because it has this very dark element. It's been a really interesting experience, not only because of the script, but also because I've had the chance to help direct some of the younger students," she says.
Grade 12 student Grayson Norsworthy, also a veteran of the stage, says his role in Heritage is a chance to play a character very different from himself: "Jackson is a really mean guy. He gets angry all the time. He's always yelling. I like to play all kinds of different characters, though. It's fun to explore different roles, to be someone else." He says that one of the most valuable aspects of production so far has been working so closely with the team. "It's mostly about being friends and working together and learning to cooperate. Every play I've done it's always with a bunch of very different people; you make friends with everyone you're working with," he says.
As the production date draws near, the youth will move from the drama studio and into the Revelstoke Performing Arts Centre Theatre for a full week of rehearsals. "We can provide them with a professional space to rehearse, with a full lighting rig, great audio, a full stage, dressing room and really help them put on a professional, quality show," says Theatre Manager Miriam Manley. "We're very excited to host Heritage. We want to support youth theatre in the community and give them the opportunity to become theatre makers and theatre audiences," she says.
Come and see Heritage at the Revelstoke Performing Arts Centre on October 24 and 25 at 7:30 pm and October 26 at 2 pm. Tickets are $10 for students and seniors, $15 for adults. All proceeds will support Flying Arrow Productions.