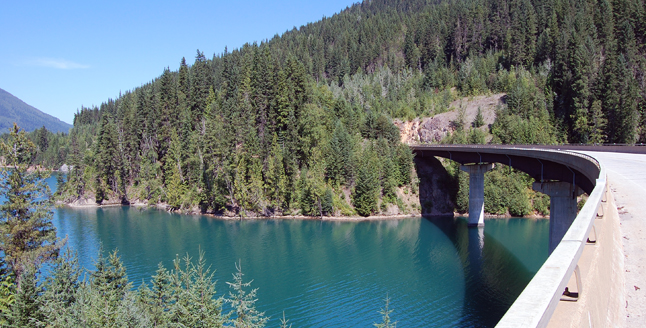 By David F. Rooney
The RCMP dive team has recovered the body of a young man from Coldstream who jumped off the Laforme Creek Bridge on Highway 23 North early Wednesday evening.
Staff Sgt. Kurt Grabinsky said the body of the 28-year-old construction worker was pulled from the water at about 7:30 pm — almost exactly 24 hours after he leaped from the deck of the bridge 80 feet above the creek. The water is about 50 feet deep where he dove in.
Mounties and Search and Rescue personnel had searched Wednesday evening for the man but saw no trace of him before they called off the search at nightfall on Wednesday.
On Thursday they returned with a helicopter and with boats but again had no luck. The dive team arrived in Revelstoke at about 2:30 pm and were in the water soon thereafter.
Meanwhile, dispirited and grief-stricken friends of the deceased had gathered at the bridge at noon on Thursday and watched as a helicopter began its aerial search along the shore.
Murmuring softly to each other, they left a bouquet on the approach to the bridge as a memorial to his fatal dive.
Grabinsky said the man's family has been notified but he will not be publicly identified until a BC Coroners' Service investigation has been completed.
This is the third drowning death in the area in a month. Early in July two men disappeared while boating on Kinbasket Lake. Their bodies have still not been found.