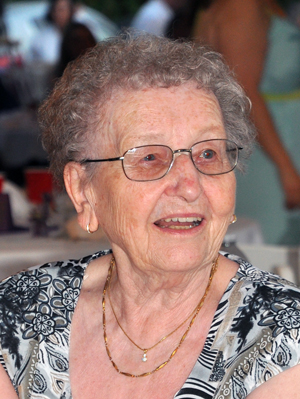 Mrs. Anne Ozero passed away at Queen Victoria Hospital, Revelstoke on Sunday, August 24, 2014, at the age of 86 years. Prayers will be recited from St. Francis of Assisi Catholic Church, Revelstoke on Wednesday evening, September 3 at 8 pm, followed by the Mass of Christian Burial on Thursday morning, September 4 at 10 am with Father Aaron de Dios celebrant. Interment will follow in the family plot of Mountain View Cemetery, Revelstoke. In lieu of flowers, memorial contributions may be made to the Revelstoke Hospice Society, Box 3133, Revelstoke, B.C. V0E 2S0, or The Canadian Cancer Society, 202 – 1835 Gordon Drive, Kelowna, B.C. V1Y 3H5, in memory of Anne.
Anne was born in Dysart, Saskatchewan, on July 28, 1928, and had been a resident of Revelstoke since 1948. She was a member of the Women of the Moose and active with the Senior Citizen's Association. Anne loved sewing and doing embroidery on her computerized sewing machine. She especially enjoyed their time spent camping at the Holiday Park Resort at Winfield.
Anne was predeceased by her husband Peter in November 2013, parents John and Lena Ottenbreit; siblings: Paul, Eleanor, John, Kay, Edmund, George, Albert, Mary and Joe and nephew Jim Ottenbreit. She is survived by three sons: Gerry (Mari) of Revelstoke, Barry (Marina) of Revelstoke and Leslie (Cindy) of Kamloops; six grandchildren: Alison (Nathan), Amy (Nils), Brice (Michelle), Lena (Stevan), Ryan (Rachel) and Jeanette; six great grandchildren; sister-in-law Joan Ottenbreit as well as numerous nieces and nephews.
Messages of sympathy may be sent to Anne's family by viewing her obituary at www.brandonbowersfuneralhome.com.
Cremation arrangements are in the care of Brandon Bowers Funeral Home.