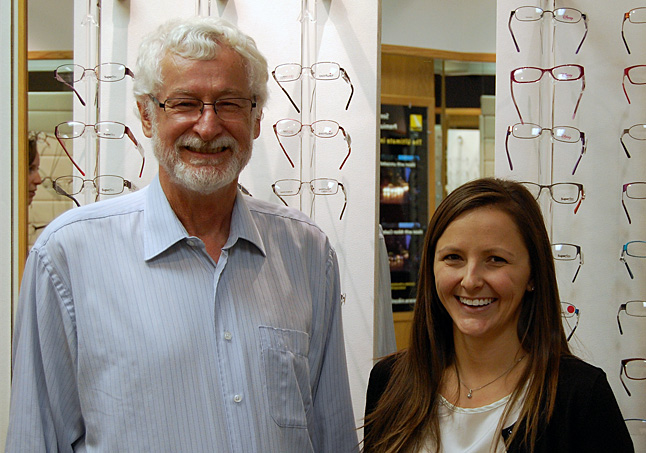 By David F. Rooney
Life as many people know is filled with funny little coincidences and instances of synchronicity. The latest coincidence to make itself felt involves local optometrist Dr. Terry O'Hagan.
Twenty-nine years ago O'Hagan just happened to stop in Revelstoke while he was out looking at places to settle down when he was an opportunity to purchase the local optometry business. Segue to 2013 and young Dr. Christine Ayles of Airdrie and her husband Alex stopped off here just when Terry was thinking it was time to pull the pin and retire.
"I'm 68; it's time," Terry said on Tuesday, August 26, as he introduced Ayles to journalists from The Current and The Times Review. "Small practices are difficult to sell. I was getting a little nervous. Then I met Christine."
Ayles, who had been living in Airdrie, a small city on the rolling prairie north of Revelstoke, wanted to move to a community in the mountains. When they saw Revelstoke it was love at first sight and the couple determined to move here. The fact that Terry wanted to sell Revelstoke Optometry Centre sealed the deal, as it were.
A few things you may like to know about Christine: Her husband Alex is in quality assurance in the oil and gas industry near Cold Lake, Alberta, and commutes back and forth via Kelowna International Airport; the couple has no kids  — yet; and they love mountain winter sports like skiing and sledding. Expect to see a lot of them up on Boulder Mountain and Frisby Ridge, as well as RMR.
Terry will still be around; he's going to be working part-time for Christine and "let the dust settle" before he makes any future plans. His staff have known for some time that a change was coming. Long-time employee Lila Atchison put it this way:
"I worked for Terry and spent more time with him longer then I know my husband," she said, adding that she'll miss Terry as a boss b ut she looks forward to the new regime. "I support Christy 110 percent and I will continue to do so. Changes are easy, quality of service is essential and its my job that patients get it. I have the utmost respect for Terry, and I am eager to work with Christy she has a heart as big as big as mine. Watch us go!"
In the meantime, she'll be getting to know her new patients and learning everything there is know about life in Revelstoke.
Welcome to town, Doctor!