By Laura Stovel
Revelstoke's 2014 Homecoming Weekend, from Friday, August 15 to Sunday, August 17, celebrates local events and accomplishments, says City Parks, Recreation and Culture director Lori Donato. Rather than bringing entertainment in from outside, this year's event showcases the many great opportunities that are normally available to Revelstoke residents.
"I think what you'll see on the schedule is a lot of events that happen often for locals and we're just showcasing that to everyone else who's going to be in town," she said in an interview. "Friday there's an event at the golf course – a nine-hole round of golf with a barbeque and prizes. The Vintage Car Club is doing their traditional car show. We have Timber Days, Railway Days and Revelstoke Mountain Resort is offering a gondola ride and brunch.
"It's all about getting people together and reuniting people so what's happening in the background is just the background. It's just rekindling the friendships and bringing people back into the community."
The Revelstoke Museum and Archives has a lot on offer during the Homecoming Weekend, offering new exhibits and several tours. Curator Cathy English said that visitors will notice some big changes at the museum since the last Homecoming. "Some of the major changes include the physical changes to our space. We've got new flooring, new lighting, a whole new open environment."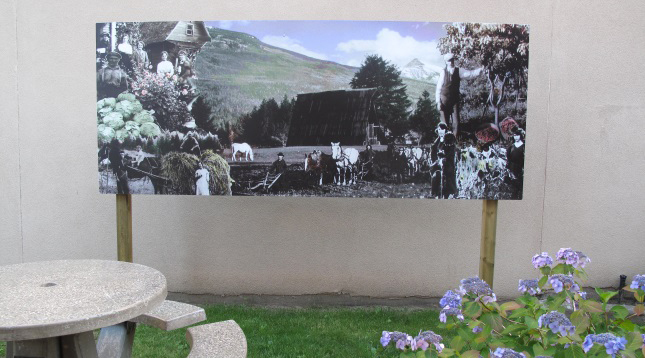 New offerings include a recent exhibit about Mount Revelstoke National Park and a brand-new exhibit on Revelstoke's participation in World War I, researched by Ken English. Visitors will also enjoy the museum's First Tracks exhibit on Revelstoke's ski history, the Mosaic exhibit on Revelstoke's multicultural history and the Mountain Harvest exhibit on agricultural history, developed in collaboration with the North Columbia Environmental Society.
The museum is also offering several tours. "We'll be doing – I'm calling it a Downtown Nostalgia Tour. Often when I do downtown tours I talk about the really old history of the area, when things were originally built, and we'll do that too but I want the walks to be kind of a sharing by people who grew up in Revelstoke or lived here for some time."
English said she wants visitors to talk about their memories of the downtown area. "I'm good at figuring out the really early history of buildings but people who lived here in the 1950s and '60s, they have memories that we don't necessarily have in our files."
English will be doing her famous cemetery tours and on Friday at 1 pm old-timer Sam Olynyk will lead a tour of the old agricultural settlements south of Revelstoke, especially the Mount Cartier settlement, before the dams flooded the Columbia River Valley.
The museum is also organizing a tea in the heritage garden beside it that will showcase a mural by artist Bruce Thomas on Revelstoke's agricultural history.
With all these events going on, there are a few former Homecoming events that won't be happening, Donato said. There won't be a parade or a dance this year. That may disappoint some, she said, but the event, after all, is really about people getting together. Revelstoke has so much to offer normally. It is a treat for people to return 'home' and enjoy just that.