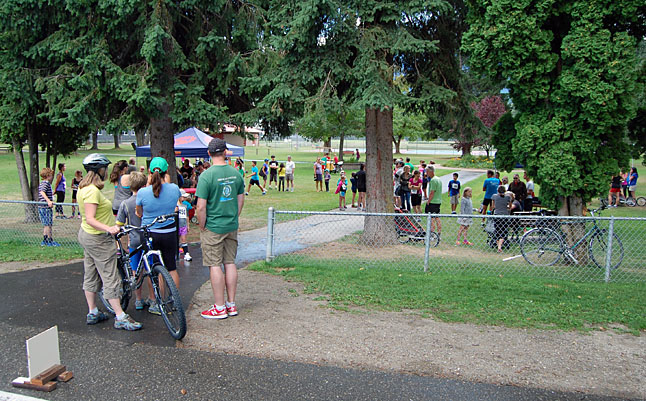 By David F. Rooney
The Revelstoke Credit Union experienced a very busy weekend as it sponsored the annual Grizzly Bear Run and what is fast becoming an annual outdoor movie in the park — both events held on Sunday, August 24, at Queen Elizabeth Park.
The race drew 22 avid runners for the 12-kilometre race and 68 for the five-km competition, which began promptly at 6 pm at Queen Elizabeth Park.
Then, just a couple of hours later, hundreds of families converged on the park for the RCU's Movie in the Park. I didn't count the crowd at the movie but there were easily more than 400 people settled down on blankets, air mattresses and in lawn chairs and recliners for the family event.
It was a near-perfect evening for the flick — no rain, few bugs and there was heavy demand for the Credit Union's famous free popcorn and glow sticks, soft drinks provided by the Roy Theatre and hot dogs, fries and poutine from the Village Idiot's mobile grill.
The Walt Disney film, Frozen, captivated everyone.
Here are the top-three competitors from the Grizzly Bear Run and, immediately afterwards, a few photos from the two events:
Male 5 km
Maxim Chane 17:52
Ben MacDonald 22:12
Thomas Beulah 22:56
Female 5 km
Lola Chane 27:13
Eden Thomas 28:42
Cedar Cameron 29:08
Male 12 km
Gordon Mason 53:49
Michael Hayworth 54:23
Raoul Mager 54:59
Female 12 km
Robyn Thomas 56:25
Alana Brittin 59:07
Liliane Lambert 1:03:03
Full race results will be available online by Wednesday August 27 at www.revcu.com.
Here, for your viewing pleasure, are some photos from the two events::