By David F. Rooney
MLA Norm Macdonald has only been the NDP's energy and mines critic for a couple of weeks and he is already faced with a major issue — the Mount Polley Mine's disastrous tailings spill.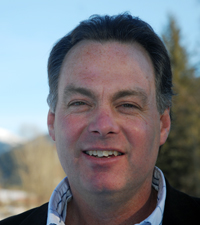 A breach in the tailing pond's retaining wall on Monday, August 4, released 10 billion litres of water and 4.5 million cubic metres of slurry — fine silt laden with toxic metals, such as lead, arsenic and mercury. It was initially feared that the spill contaminated several lakes, creeks and rivers in the Cariboo, including Quesnel Lake, Polley Lake, Hazeltine Creek and Cariboo Creek and the entire Quesnel and Cariboo river systems right up to Fraser River, which is currently awaiting the arrival of what promised to be a record sockeye salmon run.
Area residents were advised by Interior Health to refrain from drinking or bathing in the water. They were also told not to swim or fish in the affected waterways. Those orders still hold for Polley Lake, Hazeltine Creek and a small portion of Quesnel Lake that has a visible sediment plume.
That's all well and good but the inaction and inattention that led to the as-yet-unexplained breach of the Mount Polley mine's massive tailings pond demonstrates the inherent weaknesses of the BC Liberals' approach to safety regulations, McDonald said in an interview.
The government knew there was a problem with the tailing pond's retaining wall and nothing happened," he said, adding that it is apparent that no one at the company or in the government was prepared for what happened.
"I think there's no question that when you combine a reduction of on-site inspections with a policy of reducing red tape inevitably you get to a point where there is no rigour left in the system."
He said the tailing pond's retaining wall should never have failed. And it would not have failed if the safety system had worked the way it was supposed ot.
Macdonald said this failure is reminiscent of the problems that led to fatal accidents in the forestry sector.
"Remember those two mills that blew up? Mills aren't supposed to blow up."
Macdonald was referring to explosions at the Lakeland Sawmill in Prince George and the Babine Forest Products mill in Burns Lake. Each explosion killed two workers in 2012 and, together, injured more than 40. Dangerous levels of combustible sawdust were identified as the trigger for the explosions, but the owners of the Lakeland and Babine sawmills face only fines.
That's not good enough, Macdonald said.
"There has to be political people who are held accountable," he said. "We need real consequences."