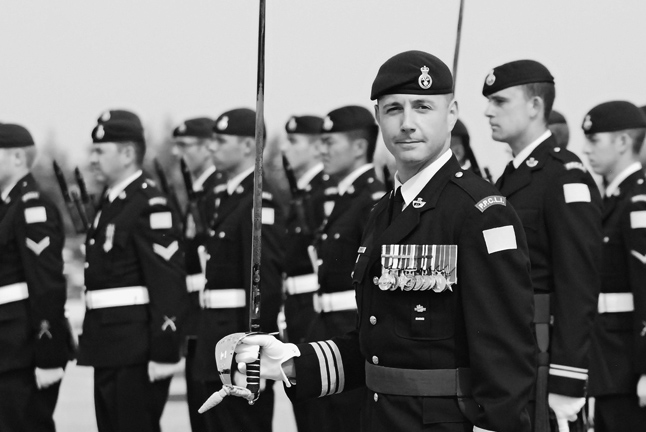 By David F. Rooney
Lieut.-Col. Mason Stalker is a very happy man. The Revelstoke native has risen to command one of Canada's elite infantry units — the First Battalion of the Princess Patricia's Canadian Light Infantry.
Stalker served two tours of duty in Afghanistan, the first as the operations officer for the 1 PPCLI Battle Group in 2007, and again in 2010-2011  as executive officer to Brig-Gen. Corbould, deputy commander of the American Army's 10th Mountain Division. Before this new post he served as chief of staff for the 39 Canadian Brigade Group in Vancouver.
He became the nw commander of 1 PPCLI during a change of command ceremony at CFB Edmonton on August 14.
He is pleased to back in command of his old unit and said in a brief interview that he looks forward to working with them. As one of the army's very best infantry units the battalion has just come down from a year of serving at a high state of readiness, meaning it was instantly ready for service here at home or abroad. But standing to at that level can grind men down and it is not sustained in peacetime for more than a year.
"The battalion has just finished a year of high readiness,"Stalker said, adding that over the next two years he'll focus on a regime of holistic individual readiness training intended to help them retain their combat-readiness skills through a mix of sports, training and spiritual exercises.
"We" be making sure their bayonets are sharp," he said.
But he won't be neglecting his men's other needs. a battalion is in may ways like one big family and many of the Patricias have families they dote on.
"He truly is an inspiration and an example if what hard work and determination can do," family friend Amanda Adams told The Current.
The Revelstoke Current congratulates Lieut.-Col. Stalker on his accomplishments.
Here are some photos from the Change of Command ceremony: