The Revelstoke Arts Council is inviting Multicultural Society members and the general public to help it program the Movies in the Mountains series for 2014-15.
"All you have to do is read over the descriptions, included below and on our website www.revelstokeartscouncil.com, of ten amazing international films (you can follow the links to find out more information) and then use our doodle poll to select your top six favourites," Miriam Manley, the RAC's manager of the Performing Arts centre, said in an e-mail.
What's more everyone who votes will be entered in a draw to win a free season pass to the Movies in the Mountains Film Series, the deadline for entry is Friday, July 18.
VOTE NOW: Choose your favourite six films from the list below.
In 1977, a twenty-seven-year-old Australian woman named Robyn Davidson set out from Alice Springs to walk 2,700 kilometres of harsh desert to the Indian Ocean. Accompanied only by her dog and four camels, Davidson yearned for a solitary journey of self-discovery, and had no ambition other than to reach the ocean. She ultimately wrote about her desert adventure in her 1980 book Tracks, which became a cult favourite around the world and has now been beautifully adapted for the big screen by director John Curran (The Painted Veil, We Don't Live Here Anymore).
Film Information
Director: John Curran
Cast: Mia Wasikowska, Adam Driver, Emma Booth
Year: 2013
Runtime: 110 minutes
Country: UK/Australia
Language: English
His story is epic and inspiring. Born to be a Xhosa leader, he was trained in law, then drawn into resistance, then politics, then elevated to a reverence that approached sainthood. Nelson Mandela has lived one of the most remarkable lives of our time. His autobiography, Long Walk to Freedom, charts the many struggles that took him from South Africa's rural Cape region to armed struggle and arrest, and then to the president's mansion as his nation's first democratically elected leader. Mandela: Long Walk to Freedom transforms Mandela's book into a rousing, spirited film. Acclaimed British actor Idris Elba (Pacific Rim, television's The Wire), tackles with gusto the role of the great man.
Film Information
Director: Justin Chadwick
Cast: Idris Elba, Naomie Harris, Terry Pheto
Year: 2013
Runtime: 143 minutes
Country: South Africa
Language: English

A tense, gripping thriller about betrayal, suspected and real, in the Occupied Territories. Omar (Adam Bakri) is a Palestinian baker who routinely climbs over the separation wall to meet up with his girl Nadja (Leem Lubany). By night, he's either a freedom fighter or a terrorist-you decide-ready to risk his life to strike at the Israeli military with his childhood friends Tarek (Eyad Hourani) and Amjad (Samer Bisharat). Arrested after the killing of an Israeli soldier and tricked into an admission of guilt by association, he agrees to work as an informant. So begins a dangerous game-is he playing his Israeli handler (Waleed F. Zuaiter) or will he really betray his cause? And who can he trust on either side? Palestinian filmmaker Hany Abu-Assad (Paradise Now) has made a dynamic, action-packed drama about the insoluable moral dilemmas and tough choices facing those on the frontlines of a conflict that shows no sign of letting up.
Film Information
Director: Hany Abu-Assad
Cast: Adam Bakri, Leem Lubany, Samer Bisharat 
Year: 2013
Runtime: 96 minutes  
Country: Palestine
Language: Arabic, Hebrew (with English subtitles) 

In Poland, few subjects are as controversial and emotionally charged as the relations between Catholics and Jews during the Nazi occupation. Following his success in England with films like Last Resort and My Summer of Love, director Pawel Pawlikowski has returned to his native country for the first time in his career to address one of his homeland's most sensitive and painful topics. The result is one of the year's most powerful and affecting films, which was awarded the FIPRESCI Special Presentations prize at the 2013 Toronto International Film Festival, and Best Film at the 2013 BFI London Film Festival.
Film Information
Director: Pawel Pawlikowski
Cast: Agata Kulesza, Agata Trzebuchowska
Year: 2013
Runtime: 80 minutes
Country: Poland
Language: Polish (with English subtitles)

Irrfan Khan (Life of Pi, Slumdog Millionaire) stars alongside the radiant Nimrat Kaur in Ritesh Batra's delightful feature debut, in which a mistaken lunchbox delivery paves the way for an unlikely romance. The Lunchbox paints a nuanced portrait of life in contemporary Mumbai, effortlessly weaving themes of gender values, social class, and generational differences into its core love story. Batra's beautifully penned characters — including Aslam (Nawazuddin Siddiqui), the eager trainee preparing to take over Saajan's job — and gentle, precise direction simply envelope you. Whether it's the cooking of a meal, the reading of a letter, or the riding of a crowded train, the film's small moments culminate in big impact. In a word: enchanting.
Film Information
Director: Ritesh Batra
Cast: Irrfan Khan, Nimrat Kaur, Nawazuddin Siddiqui
Year: 2013
Runtime: 104 minutes
Country: India
Language: Hindi (English subtitles)
WE ARE THE BEST! is Moodysson's adaptation of his wife Coco's graphic novel about three young misfits growing up in early '80s Stockholm. Pixieish, mohawk-sporting Klara (Mira Grosin) and her best friend Bobo (Mira Barkhammar) are 13-year-old rebels looking for a cause. Despite having no instruments-or discernible musical talent-the two put all their energy into forming an all-girl punk band, recruiting their shy, classical guitar-playing schoolmate Hedvig (Liv LeMoyne) as the third wheel. With tender affection for his young characters and the period in which his film is set, Moodysson paints an ebullient and sharply observant portrait of DIY spirit and growing up different.
Film Information
Director: Lukas Moodysson
Cast:  Mira Barkhammar, Mira Grosin, Liv LeMoyne
Year: 2013
Runtime: 102
Country: Sweden | Denmark
Language: Swedish (English Subtitles)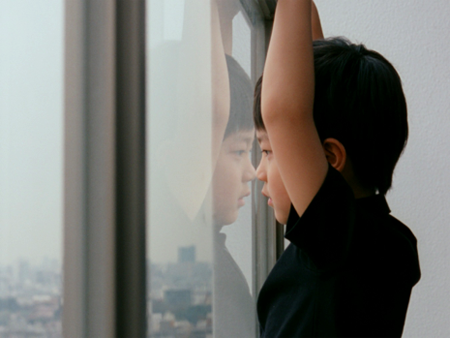 This poignant new drama from acclaimed Japanese director Hirokazu Kore-Eda tells the heart wrenching story of two sets of parents whose worlds are turned upside down when they learn that their six-year-old sons were switched at birth.
Like the work of a seasoned symphony conductor, Kore-Eda's direction is at once gentle and powerful, favouring small, tender moments over a single dramatic incident. Although framed in a Japanese cultural context, the questions Kore-Eda poses around parenthood and "nature versus nurture" are universal. Like Father, Like Son reminds us that any definition of family needs to be constructed around unconditional love, first and foremost.
Film Information
Director: Hirokazu Koreeda
Cast:: Masaharu Fukuyama, Machiko Ono, Yôko Maki
Year: 2013
Runtime: 120
Country: Japan
Language: Japanese (English subtitles)
Based on the remarkable bestselling autobiography, The Railway Man tells the extraordinary and epic true story of Eric Lomax (Colin Firth), a British Army officer who is tormented as a prisoner of war at a Japanese labor camp during World War II. Decades later, Lomax and his beautiful love interest Patti (Nicole Kidman) discover that the Japanese interpreter responsible for much of his treatment is still alive and set out to confront him, and his haunting past, in this powerful and inspiring tale of heroism, humanity and the redeeming power of love.
Film Information
Director: Jonathan Teplitzky
Cast: Colin Firth, Nicole Kidman, Stellan Skarsgård
Year: 2013
Runtime: 116 minutes
Country: Australia/UK
Language: English
A Dublin family races to recover their grandmother's mattress — and its hidden stash of over a million euros in carefully squirreled-away savings — in this delightful comedy from director Lance Daly.  The title of Lance Daly's wonderful new comedy is more than a little ironic, yet Life's a Breeze does maintain a singularly breezy tone, balanced with moments of heartfelt connection across generational divides. So long as we hang on to these, things can only get so bad.
Film Information
Director: Lance Daly
Year: 2013
Runtime: 83 minutes
Country: Ireland/Sweden
Language: English
The small community of Williston, North Dakota, becomes a boomtown during the economic downturn. Overnight, a massive migration of unemployed men seeking six-figure salaries storms the oil fields. A local pastor risks his private life and public standing to welcome the desperate down-and-out-of-towners. He converts his church into a crash pad for the homeless, and offers free meals and job-seeking resources. Pastor Jay sees the new arrivals as a gift, potential sheep to his flock. To him, the strangers are merely broken souls who've never known kindness. His congregation and local residents see the men differently—as dangerous ex-convicts and sexual predators. What truly drives this man of the cloth? Charity? Ministry? Ego? An inability to say no? A shocking revelation provides the answer and raises profound questions about human decency, the complexity and hypocrisy of faith, and what it is to build community
Film Information
Director: Jesse Moss
Year: 2013
Runtime: 100 minutes
Country: USA
Language: English