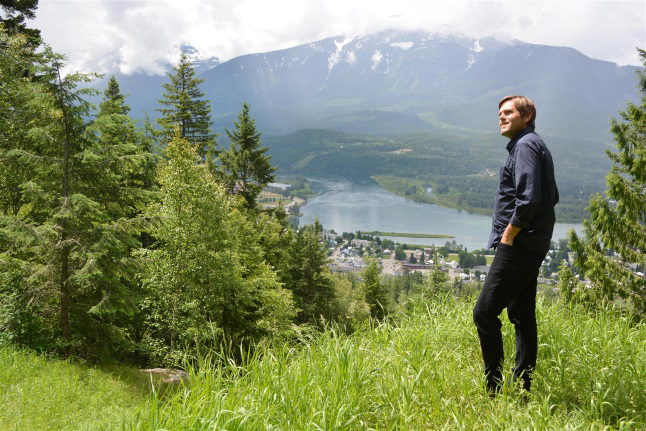 By Laura Stovel
It is sometimes tempting to think of Canada's national parks as protected conservation 'islands' – havens for wildlife and ecosystems – that are isolated from development interests surrounding them. Nicholas Irving, the soft-spoken, fairly new superintendent of Mount Revelstoke and Glacier National Parks, knows that this is far from the case. If parks are to flourish, partnerships have to be established and a vision must be created that recognizes everyone's needs.
The Haida and Inuit "talk about how it's impossible to separate humans from the ecosystems" and the human role in nurturing ecosystems, Irving said.
You can tell from Irving's speech that he has learned a great deal from the Haida and Inuit about meaningful discussions and shared visioning. His language indicates that he is comfortable working together with partners, rather than engaging in superficial 'consultations.'
During the years he worked in Haida Gwaii to help establish the Gwaii Haanas National Marine Conservation Area, Irving worked "very closely with senior members of the Haida community" as well as fishing and marine transportation interests "to chart out a vision that we could not only live with but thrive through." The marine conservation area, which was established in 2010, is "much like a national park," Irving said, "except that we were able to focus on sustainability" – sustainable human use in a protected environment.
Irving then went on to Ottawa for three years where he worked on Parks Canada's marine program in other parts of the country. One important initiative was in the East Arctic, in Lancaster Sound – a rich and fragile ecosystem with global ecological significance because of its marine diversity – "baloogas, narwall, seabirds" – combined with the Inuit people's need to sustain themselves off the land. Parks Canada and Inuit groups felt that the area needed to be protected "so we did some very important work with communities, the Government of Nunavut, working mostly with the Qikiqtani Inuit Association there."
Working together for mountain caribou
When Irving started work in Revelstoke in early February, he knew that partnerships would again be key to his work. Some of those relationships will be with Aboriginal people who have historical links to the land; others will be with groups that have common interests – such as those involved in the Revelstoke Caribou Rearing in the Wild initiative.
"I think the conversations that things like the mountain caribou spur and necessitate are very exciting," he said. "Our national parks aren't islands and we're not doing our job if we're just tending to our own needs internal to the defined boundaries of our national park or marine conservation area or historic site. Our work is to try to tend to those spaces well and we do so by working effectively with our neighbours – be that a forest company, or a heli-ski operation or a back-country lodge. Our ability to manage effectively within is affected by our ability to work well with partners and neighbours beyond."
"For the first time in a long time – or ever – we are having a landscape-level conversation about caribou," Irving said. In my view that initiative's already wildly successful insofar as it's brought groups that maybe historically didn't work together. It brought everybody over a common table to have a coordinated conversation about Mountain Caribou. It won't be easy to restore that population but I have confidence that collectively we will."
"We view mountain caribou as a signature species of the interior ranges of British Columbia. There should be caribou here. There will be caribou here next year and in the decades to come and our interest is to see that population grow. We will do everything we can to support that internal to our boundaries but also to support our partners," he said.
Returning to childhood spaces
Taking this job wasn't Irving's first time in the Revelstoke area. "I was very fortunate to be introduced to this part of the world at quite a young age. My earliest camping and hiking memories are of the Illecillewaet and Balu Pass and Beaver Valley having come here with my folks." Now he sees a lot of potential for expanding visitors' experiences and education in the mountains.
This may include enhancing winter camping opportunities and using technology, such as podcasts and self-guided tours to allow visitors to explore their personal interests. "We're looking at having a multi-platformed approach to telling our stories." If there is a road closure at Roger's Pass due to avalanche control and the visitor centre is closed, stories can still be told through devices, he said. If visitors are interested in snow science or history, Parks Canada can "tell slivers of that, allowing visitors to craft their own experience a bit more because we have a range of narratives that we can share."