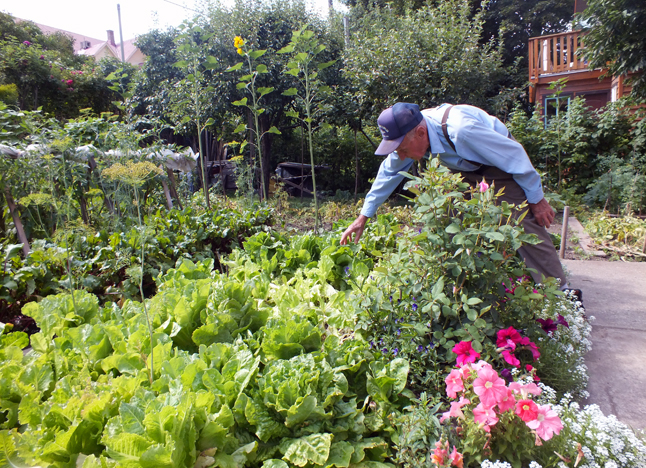 By Sarah Newton
North Columbia Environmental Society
Back by popular demand is the Revelstoke Garden & Art Tour!
Organized by the Local Food Initiative  (a committee of the North Columbia Environmental Society) the tour will feature over a dozen amazing local gardens, each one with a local artist showing and selling their works. Gardeners will be on hand to answer questions and give advice on how to replicate their jumbo carrots, juicy tomatoes, nectarines (yes, there are nectarines and figs too!), heritage roses, perennials, fruit trees, and every other conceivable plant in between.
The tour is a bit different this year. This Saturday, July 26 — from 1 pm to 6 pm tour — maps will be available at the Downtown Community Garden (located at the United Church, corner of Mackenzie and Third) and with a map in hand, the self-guided tour can begin. The tour is by donation but a minimum $5 for each person taking the tour is suggested.  This tour is a fundraiser, with all proceeds going to local food initiatives right here in our community.
Mark your calendars for this Saturday afternoon, July 26.
You will learn how to be more food secure, have a chance to view and purchase some outstanding pieces of art, support an important local non-profit society, and be inspired by the beauty all around us here in Revelstoke.  See you on Saturday!