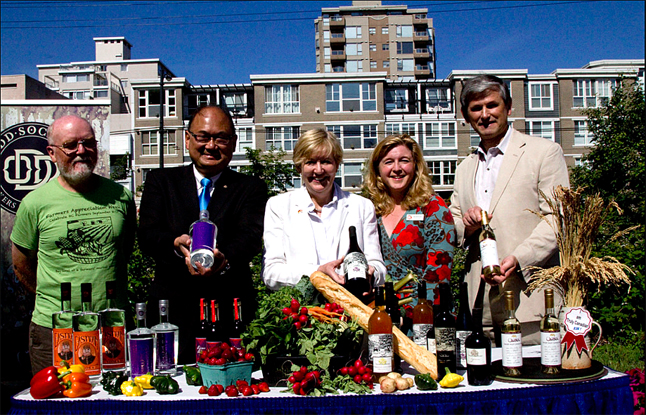 Beer, wine, cider and spirits can now be sampled and sold alongside fresh fruits and veggies at BC farmers' markets as a new batch of Liquor Policy Review changes take effect.
"Having local liquor manufacturers at BC farmers' markets will offer shoppers a convenient opportunity to taste-test and purchase local liquor products, and at the same time promoting BC agri-tourism, creating new economic opportunities for local businesses and helping to complement the sales of BC-grown foods," Jon Bell, president of the BC Association of Farmers' Markets said in a provincial government statement released on Saturday, June 21.
Adopting a community-centered approach, liquor manufacturers can apply directly to the farmers' markets where they wish to sell their products and it will be up to the market association to determine which vintners, distillers and brewers are accepted, subject to municipal bylaws. To help ensure responsible service and prevent sales to minors, liquor vendors must have Serving it Right certification.
"The liquor policy changes that take effect today reflect the lifestyles of contemporary British Columbians," BC Attorney General and Minister of Justice Suzanne Anton said in the statement. "Being able to pick up a bottle of local wine at your local farmers' market is one of many balanced changes that support convenience and choice for consumers and economic growth for B.C."
Another change permits families to grab brunch at a local pub or enjoy a meal together at their Royal Canadian Legion branch. As of today, liquor-primary establishments may apply to accommodate minors. Should establishments wish to keep their current business model, they are free to do so.
This is a liquor-licensing model that has long been advocated by former Powder Springs general manager Emma Kirkland.
"I am thrilled to hear the Liquor laws are coming into the times," she told The Current on Sunday. "I think that the local farmers' market is a great opportunity for local liquor manufactures to promote their products and to allow young families into pubs is a great step forward, being English I don't see any harm as it is still up to the parents to decide to enter."
The Royal Canadian Legion was also pleased.
"BC's Legion branches are thrilled to have the option to offer safe, family-friendly environments where legion members can celebrate special occasions with kids in a history-rich environment, to connect as a family, and as a community," said Angus Stanfield, Royal Canadian Legion BC/Yukon Command president.
This change opens up new dining options for rural communities, where the number of family eateries may be limited. To balance health and safety concerns, minors must be accompanied by an adult and may stay no later than 10 p.m.
Also in effect today, private liquor stores and wine stores now have the opportunity to set up temporary stores at liquor and food and beverage festivals to sell products that are featured at the festival.