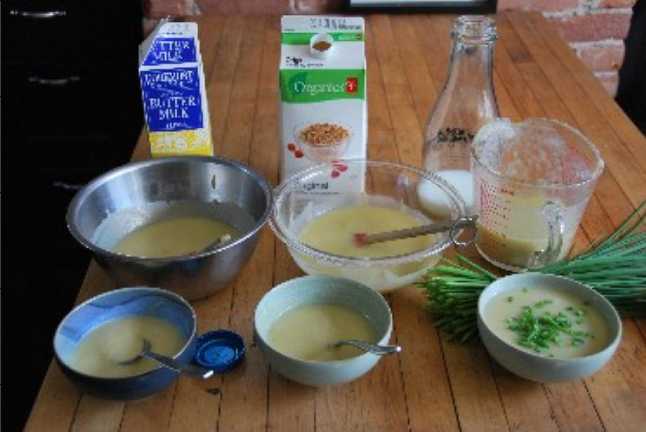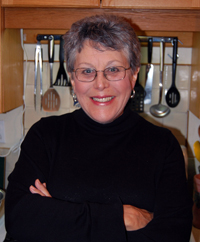 Soups for Suppers: low-fat, low-salt, some non-dairy.
Asian Vegan Hot and Sour Soup
Lemony Lentil Soup
Easy Tomato Veggie Soup
Vichysoisse Nouveau Monde
Caldo verde 
With a comparison chart for proteins, fat and cholesterol, plus a reading list.
One month of extreme low-fat cooking has taught me that moderation in most things has value. Three weeks ago, we embarked, or tried to, on what is known as the Dean Ornish Heart Disease Recovery Diet. This regime, authored by Dr. Dean Ornish who now heads up the Institute for Preventative Medicine at the University of California in San Franciso, reduces one's fat intake to about 10% of all calories. The diet is essentially vegan except for skim milk products and egg whites.
What convinced me that this program might be useful in combating heart disease is that, unlike most books about diets, the argument for extreme low-fat cooking is evidence-based. Ornish is a medical doctor who cites hundreds of studies showing that heart disease can be avoided, improved or even reversed by a diet very low in the fats that cause much cholesterol in the first place. Even so called good fats, he shows, contain some of the bad. So he advocates avoidance.
Every gram of fat — any fat or oil in pure form — has 9 calories per gram. One tablespoon of most oils weighs 14 grams, and yields about 120 calories. So on a 2400 calorie-per day diet, reducing the caloric intake of fat to 10% means you should eat no more than 240 calories of fat, or two tablespoons, 28 grams, in the whole day. If your calorie intake is 1800 cals per day, reduce that to 1.5 tablespoon of fat, or 21 grams. One ounce of cheddar cheese (picture a domino-sized block) contains 28 grams of fat.
We followed this regime fairly religiously for about 10 days of the first two weeks, with impressive results in terms of weight loss and lowered blood sugars.
However, it drove me totally nuts. After creating non-fat soups for lunch, low-fat granola for breakfast (combined with 1% fat yogurt and fresh fruit chopped up), by dinnertime I would be gnashing my teeth or else weeping silently as I chopped more damned veg. I couldn't publish this column because I began to hate cooking. Nothing tasted good to me, mealtimes became loathsome as my resentment and anger grew. I was wracking my little brain trying to devise acceptable meals; my dearly beloved dislikes tofu and I dislike beans. And he continued to eat two slices of toast with margarine and peanut butter every morning for breakfast—the whole 28 grams at least, in one little breakfast. The rest of our meals had to be totally devoid of all fat.
In the end, we decided that we would continue to eat fish and skinless chicken, low fat cheese, peanut butter, the occasional dessert and sometimes a little olive oil. We will do the Moderate regime 5 days a week but weekends are free food. This is not the Recovery Diet, but it IS a moderately low-fat diet — and one that is more consistent with a good eating plan for diabetics (the extreme low-fat diet is rather high in carbs, and getting enough protein is an issue.)  When we're out, we'll eat what other people serve for dinner, without talking about diets. In restaurants, we'll look for the heart-smart choices, and probably eschew desserts unless we're feeling particularly deprived. It means generally avoiding the sweets and snacks that are bad for diabetics, and avoiding the calories associated with rich cream and butter-based dishes.
I continue to seek methods and recipes that will allow us to maintain some semblance of health and weight loss while remaining healthy and above all, for the kitchen staff e.g., y.t., sane. We eat one bowl of soup each for lunch, for instance, with a glass of skim milk and perhaps a cracker and a piece of low-fat cheese if I've slaved in the garden all morning, and DD has slaved solving the problems of the world down at Sangha Bean.
Some information about using less fat in general in meal prep, especially after reading Everyday Cooking with Dr. Dean Ornish (1996). For instance:
Sauté onions and peppers in 1 tbsp white wine, rather than oil. If you do this very slowly, eventually the sugars in the veg emerge and create that browning effect that you want as the basis for soup, stew or sauce, or even a stir-fry;
You can buy a number of zero fat dressings and marinades. These are often found in the salad crisper sections of the supermarket. President's Choice products are particularly good, but you have to go to Salmon Arm (No Frills) or Vernon (Superstore) to get them. (Listen up Southside!! — I know the Pattison outlets will never carry them.);
Try non-fat dairy products such as yogurt, cottage cheese, sour cream, milk and even cheese (some fat but very low), which have become much better as consumer demand has risen. You can boil skim milk and nonfat sour cream but not in the presence of acid such as vinegar or lemon juice; yogurt will curdle if boiled so add it at the end of the cooking process;
Instead of thickening with butter and flour and milk, use cornstarch. Mix it with an equal amount of hot water in a small jar before adding it slowly to the mix you're cooking — and if possible add some of the hot mix to the cornstarch mixture to get the starch used to the heat;
Make salad dressings with a base of non-fat yogurt or sour cream or both, rather than oil;
Generous use of garlic, ginger, herbs and spices, lemon juice, lemon or lime zest, soy sauce (go for the low-salt version), curry pastes and fish sauce, will overcome the blandness often associated with low-fat dishes;
Be mindful about fats: every tablespoon of fat you eliminate is 120 calories less on your waistline; and
A reasonable serving of protein-rich food (tofu, chicken, meat or fish) is 3 ounces. If you weigh your servings for a week, you get used to eyeballing the proper portion.
Below are some low-fat, low-salt soups, in response to the many positive comments I've heard endorsing the idea of nutritious meals lower in calories than the norm. Of course, you could add chopped cooked chicken, ham, beef or pork to any of these, or fish or shellfish, for higher protein. Or tofu! although ounce per ounce skinless white chicken meat has more protein and less fat than tofu (but tofu has less cholesterol.)
In order to help you figure out what to eat, here's a table with some comparisons of fat, protein, cholesterol contents, plus calories, of some of the main food choices that occur on my list. I haven't included carbs and sugars, which you will be watching for if you are diabetic, and have also excluded fruits and veggies, which with the exception of avocados and potatoes, you should be eating 5-7 servings of daily, without regard for calorie count. Measures from package labels, and from the Ornish Recovery Diet book.
(Reading the labels at the supermarket is confusing because of the different labellings strategies—grams, milligrams, milliliters, ounces, tablespoons—how is anyone expected to stand there and convert these to comprehensible measures? One of life's drive-you-crazy  things.)
Comparisons: Fat, Protein, Calories, Cholesterol per serving size*, rounded up
| | | | | | |
| --- | --- | --- | --- | --- | --- |
| Food | Amount(gms) | Protein(gms) | Fat(gms) | Chol(mgs) | Calories |
| Almonds | 1 tbsp. | 1 | 4 | 0 | 43 |
| Avocado | 1 small | 8 | 37 | 0 | 369 |
| Butter | 1 tsp | 0 | 4 | 12 | 36 |
| Canola oil | 1 tsp | 0 | 9 | trace | 40 |
| Cheddar Cheese | 1 oz. | 7 | 9 | 30 | 114 |
| Cottage cheese, 0 % fat | ½ cup | 15 |     .4 | 5 | 90 |
| Egg, white only | 2 | 7 | trace | 0 | 32 |
| Egg, whole, medium | 1 | 6 | 6 | 274 | 79 |
| Kidney beans | ½ cup | 7 |   .5 | 0 | 109 |
| Lean beef (6% fat) | 3 oz.** | 9 | 5 | 78 | 159 |
| Lean pork (10% fat) | 3 oz. | 8 | 8 | 75 | 183 |
| Lentils | ½ cup | 8 | 0 | 0 | 106 |
| Milk, 2 % | 1 cup | 8 | 3 | 4 | 102 |
| Milk, skim | 1 cup | 8 |  .4 | 4 | 86 |
| Salmon | 3 oz. | 23 | 5 | 30 | 144 |
| Shrimp | 3 oz. | 21 | 2 | 130 | 100 |
| Skim milk cheese | 1 oz. | 8 | 5 | 15 | 79 |
| Sole | 3 oz. | 14 |     .6 | 0 | 66 |
| Soy milk (Biologique, Original) | 1 cup | 6 | 3 | 0 | 90 |
| Tofu (piece /inches)    2.5 x 2.5 x 1 | 3 oz approx | 9 | 5 | 0 | 86 |
| White chicken | 3 oz. | 28 | 4 | 66 | 153 |
| Yogurt, full fat | 1 cup | 8 | 7 | 29 | 139 |
| Yogurt, zero fat | 1 cup | 7 | 0 | 0 | 80 |
**1 oz. = 84 grams* Recommended serving size by Weight Watchers for adults trying to cut down. On a small chicken breast, this is about half; for a large one, weigh to be sure. Eyeballing 3 oz. of protein meat gives you a piece about the size of one large egg. Stunningly tiny compared to what most of us are used to eating as young—younger?—adults.
Easy Tomato Veggie Soup
Zero fat, zero salt, zero dairy. Ginger, garlic, lemon and spices replace the salt, which you won't even miss.
8 whole Roma tomatoes, diced
1 cup water
1 carrot, diced
1 onion or leek, diced
small potato or sweet potato, diced
1 cup green beans, sliced, or peas
1 tsp garlic, grated or minced
1 tsp grated ginger
juice of ½ lemon
1 tsp Mrs. Dash seasoning
¼ tsp ras al hanout (Moroccan seasoning) OR red pepper   flakes plus ½ tsp cumin
Dice the tomatoes and stir them in a saucepan into the water. Simmer until the tomatoes break down into pulp. Use a hand-held blender or a stationery one to liquify the tomato mixture. (If you use a regular blender, be sure to let the tomatoes cool a little, then place a folded tea towel over the top before turning the machine on, and then keep one hand firmly on the tea towel to make sure the top stays on—a full blender of hot liquid can cause severe burns.)
Return the liquified tomatoes to the saucepan. Add the carrot, potato, onion, green beans, ginger, garlic and lemon juice. Simmer for ½ hour. Add the Mrs. Dash and the seasonings. Simmer another ten minutes.
You can vary this soup and make Tomato Rice Lentil Soup by omitting the chopped veg and adding instead a cup or cooked lentils and a cup of cooked rice. I've turned it into a minestrone with beans, pasta, peas and toppings. Rather than parmesan on top, the low-fat version has squash croutons braised in balsamic vinegar, chopped herbs and low-fat ricotta.
Asian Vegan Hot and Sour Soup
This meatless, no dairy, no fat recipe is adapted from the Chinese Ten-Vegetable Hot and Sour Soup in Moosewood Restaurant's Cooking for Health. Vary the vegetables according to what's on hand. The flavourings are soy sauce (use the light, lower salt variety) and rice wine vinegar. I made life easy by using a package of pre-sliced cabbage meant for cole slaw. The cutting up of the veggies is tedious, but the soup is REALLY worth it, it's so delicious. Keeps well refrigerated in mason jars for up to a week. This is our favorite soup.
¼ cup white wine
1 cup chopped onion
2 tbsp grated ginger
2 fresh jalapeño chilis, without seeds and inside flesh
1 cup diced celery
1 diced sweet potato
1 cup diced butternut squash
1 cup diced carrots
1 cup sliced mushrooms
1 diced zucchini
1 diced pepper, preferably red or yellow
2 cups finely slivered cabbage
2 cups slivered bok choy or spinach or chard
1 cup fresh diced tomatoes
10 cups water
½ cup soy sauce
1/3 cup rice wine vinegar
1 tbsp balsamic vinegar
2 tsp Mrs. Dash flavouring
2 tsp ground black pepper
¼ cup cornstarch
½ cup cold water
1 package firm or semi-firm tofu, diced into 1 cm pieces
1 tsp sesame oil
½ cup chopped scallions, when serving, as topping
Sauté in the ¼ cup of white wine the onions, ginger and chili. Add the celery, sweet potato, carrots, squash, pepper and tomatoes, and the water, and simmer for 5 minutes.
Combine in a small bowl the cornstarch, cold water, soy sauce, vinegar, Mrs. Dash and the black pepper. Add a little of the hot liquid to this, and blend well, making sure you crush any lumps of cornstarch in the bowl. When the mixture is very smooth, add it slowly to the soup, stirring well. Simmer for another 15 minutes, or until the vegetables are cooked.
Add the mushrooms and zucchini and simmer 5 minutes. Add the tofu, the sesame oil and the slivered bok choy or spinach. Cook another 5 minutes. Remove from cooker.
Serve with sliced scallions on top. Pass the hot sauce for those who love the heat.
 Vichysoisse Nouveau Monde

Vichysoisse was the sine qua non of French gourmet cooking in the 50s and 60s. I remember my dad in the kitchen sieving the potatoes, an absolute essential for vichysoisse. This is a fine French soup that, in the best French cooking tradition, makes an elegant dish from everyday ingredients. 

A blender to mulch the potatoes makes the soup gluey; sieving the potatoes gives a fine, light but creamy texture. This version doesn't perhaps have the richness of soup made with real cream, but has the virtue of zero fat.
¼ cup white wine
3 leeks, chopped after thorough cleaning
1 onion, diced
1 large clove garlic
9 medium potatoes, peeled if old but unpeeled if new, and diced
4 cups veggie broth
2 cups skim milk
chives as garnish
dash hot sauce
dash Mrs. Dash
Cut the hairy end off the leeks and peel off one layer of outer leaves. Slice the leeks into ¼ inch rounds, all the way to nearly the top, peeling off tough outer leaves as necessary. Then put the slices into a colander and rinse well to get rid of sand that may be trapped between the leek layers.
In a large soup pot, sauté the leeks, minced garlic and sliced onion in the white wine for about 10 minutes—long enough to wilt the veggies.
Add the veggie broth; then add the diced potatoes. Simmer until the potatoes are mushable. Remove from heat and cook slightly.
One cup at a time, press the potato-leek mixture through a sieve into a large bowl, scraping the bottom of the sieve constantly. This is a bit tedious but cannot be replicated in a food processor or a blender, which will turn the potatoes to glue.
When the potato-leek sieved cream is done, return to the pot and add the skim milk, a dash of hot sauce and a dash of Mrs. Dash. Reheat but don't let the soup boil.
Serve hot or cold, topped with chopped chives for garnish. If you want a thinner soup, add a little more milk.
Note: for anyone NOT looking for a low-fat diet, use cream rather than milk for traditional vichysoisse.
Healthy caldo verde

You can use the blender for this soup, as the added milk and the spinach cut the glueyness that blended potatoes unhappily bring to any dish, but the consistency is better, if you have the time, use a sieve.
¼ cup white wine
3 onions, diced
1 large clove garlic
9 potatoes, peeled if old but unpeeled if new, and diced
10 oz spinach
4 cups veggie broth
3 cups milk (soy milk for vegan, though it ups the fat content.)
1 tbsp lemon juice
dash hot sauce
1 tsp Mrs. Dash
Sauté the onions, garlic and potatoes in the white wine. Add the veggie broth and simmer for 30 minutes. Let cool slightly. Blend to the consistency of thick cream, and add half the soy milk. Add the spinach to the blender and whiz again. Then add the rest of the milk, and the seasonings. The soup will be a lovely bright green. It is mild unless you add more hot sauce or other topping—roasted squash croutons in vinaigrette, for instance.
Variation: use sorrel instead of spinach for sorrel soup. You can omit the onion and use broth instead of milk. If the sorrel is quite strong, a dollop of nonfat sour cream on top adds a touch of sweetness and a creamy texture, and cuts the intense vegetal flavour of gone-to-seed sorrel.
Lemony Lentil Soup
Makes 12 cups
Lentils yield more protein and less fat per ounce than any other legume. Low salt, low fat, soup that's big on flavour, high in protein-rich lentils, high in fibre. The lemon makes up for the low salt content and adds sweetness that counters the intense vegetable flavour. You can make this vegetarian by using veggie stock rather than chicken.
1 tsp canola oil
¼ cup white wine
1 cup minced onion
1 cup chopped carrot
1 cup chopped yam
1 cup chopped celery
2 tbsp minced garlic
1 tbsp minced fresh ginger
2 cups red, brown or black lentils (red makes the prettiest soup)
4 cups water
4 cups or 1 pack low-salt chicken or vegetable stock
juice and zest of 1 large lemon
1 tbsp Mrs. Dash seasoning
1 tbsp balsamic vinegar
1 tbsp Pam's Mango Chutney (From Paramjit's Kitchen restaurant, or the community market)
1 tsp salt
Heat the oil in a large strong-bottomed pot. Add the white wine, and the onion, carrot, celery, yam, garlic and ginger. Sauté over medium heat until veggies are soft. Add the stock and cook for another 15 minutes.
Using a hand-held blender, zap the mixture in the pot until a thick mush results. (Or use a regular blender—but let the mixture cool a little first, and hold the top on the blender with a folded kitchen towel.)
Rinse the lentils in a sieve under cool running water until the froth that bubbles up from the lentils disappears. Who knows what it is, that froth, but it looks suspiciously like detergent, meaning it may be a preservative or worse. After a minute or so under running water, the froth disappears.
Add the lentils and 4 cups of water to the mixture in the pot. Simmer until the lentils are soft, about 30 minutes. Add the balsamic vinegar, Mrs. Dash, Pam's Curry Sauce and the salt.
Zest the lemon peel and squeeze the lemon for about ¼ cup juice, and add to the soup. Stir well. Taste for seasoning; if you want more heat, add more curry sauce or a sprinkling of red pepper flakes.
Serve with a dollop of yogurt and another spoonful of Pam's Curry Sauce, or Sweet Thai Chili Sauce and chopped peanuts.
READING
If you want to read about food, health and North America's food industries, have a look at some of these.
Etlinger, Steve. Twinkie, Deconstructed: My Journey to Discover How the Ingredients Found in Processed Foods are Grown, Mined (Yes, Mined), and Manipulated into What America Eats
Kurlansky, Mark. Salt, A World History

Moss, Michael. Salt, Sugar, Fat: How the Food Giants Hooked Us.
Ornish, Dean. Dr. Dean Ornish's Program for Reversing Heart Disease.
Pollan, Michael. In Defense of Food: An Eater's Manifesto

Pollan, Michael. Food Rules.
Tannahill, Reay. Food in History