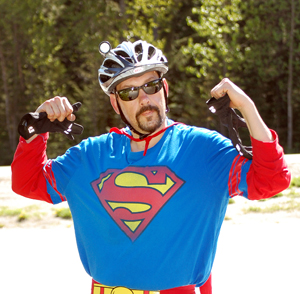 Pharmasave's Andrew Moore bicycled more than 720 kilometres from Edmonton to Revelstoke during Bike To Work Week finishing up almost as a superhero to his friends and colleagues when he rolled into to drugstore's parking lot on Sunday, June 21.
"I did pretty good," he said in an post-ride interview. "I actually made it a little early — I got to Canyon Hot Springs by 2:30 pm."
Despite rain during the initial stretch from Edmonton to Cochrane, he said he had a pretty smooth ride and it was also one that taught him something about himself.
"I think this taught me not to be so competitive — to slow down and enjoy the moment," Moore said.
Besides wild Albertans in their native habitat on that province's highways, Moore had only one encounter with animals — a herd of big horn sheep on Highway 1A near Exshaw who blocked the road and begged for food.
He was especially appreciative of Karmen Cozens help as she drove his pilot vehicle from Banff to Revelstoke.
What will he do now?
Moore would like to go head-to-head against the Mantracker.