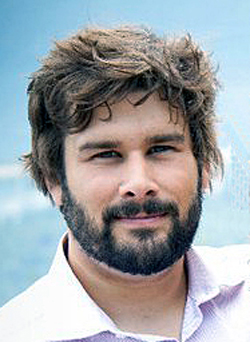 Rowland Michael Bell passed away on May 12, 2014 at the age of 30 years in Kelowna General Hospital after a four-month battle with a rare neurological disease secondary to cancer. He was supported with great compassion by his loving and devoted partner, Kerstin Byman, who was by his side for his entire three-month hospital stay.
A memorial funeral service for the late Rowland Bell will be held at the Revelstoke Community Center on Tuesday afternoon, May 20 at 2 pm.
Rowland was born on March 6, 1984, in Toronto, Ontario. He graduated from Malvern Collegiate Institute, Toronto and received his Honours BA from McMaster University in Hamilton. Following his move to Revelstoke almost five years ago, he continued his studies at Royal Roads University.
He pursued his passion for the outdoors through his work, at Revelstoke Mountain Resort and as an environmental field technician, his community service and through his recreational pursuits; skiing, hiking, camping, biking and photography. His kindness, gentle manner and positive energy will be sadly missed by Kerstin, who was the love of his life and who is carrying his soon-to-be-born son; his loving parents Rowland and Susan Bell, sister Dana, in-laws; Barb and Greg Byman and their son, Bryce and wife Jessica; as well as his aunts, uncles, nieces, nephews and the abundance of wonderful friends that he made throughout his life.
In lieu of flowers, please consider a donation to a favorite charity or to baby Bell's TD trust account, in memory of Rowland. Please contact Brandon Bowers Funeral Home for instructions. You can contact Brandon Bowers Funeral Home by telephone at 250-837-2029 or send an e-mail to office@brandonbowersfuneralhome.com.
Messages of condolence may be sent to the families by viewing his obituary at www.brandonbowersfuneralhome.com.
Cremation arrangements are in the care of Brandon Bowers Funeral Home, Revelstoke.