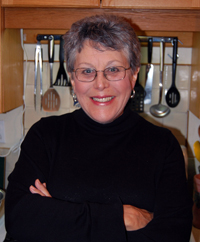 Mexican for Mother's Day
Easy recipes for dads and kids to make–with shopping list
Dinner for 5-6 people
Tacos with beef and cheese
Fish tacos
Salad with corn, black beans, oranges and goat cheese
For Mother's Day, give mum a break from the kitchen with a Mexican treat. Tacos, beef and/or fish, plus a salad, along with some ice cream and strawberries, make a great dinner that's fun to cook. A chef plus a sous-chef make this go fast. Relying on some prepared foods helps with making this dinner easy. A shopping list follows the recipes.
Tacos with beef and cheese
The secret to the great taste of these tacos is the BBQ sauce, so don't be tempted to leave it out.
1 onion
1 lb ground beef (or lamb or venison or moose)
1 package taco seasoning
½ cup Diana BBQ sauce
2 cups water
6 tortilla shells
2 tbsp vegetable oil, butter or margarine
Chop the onion into 1 cm dice.
Heat 1 tbsp oil in a frying pan and add the onion. Sauté over medium heat until onion is transparent.
Add the ground meat and break it up with the edge of a wooden spoon as it cooks.
Add the taco seasoning and 2 cups of water. Stir well and continue to cook, stirring so that the meat breaks into tiny pieces. Cook over medium high heat so that the water evaporates as the meat cooks.
Turn the heat to low. Add the Diana sauce and keep cooking until most of the water has evaporated and the meat is really tender. Set aside in a bowl and keep warm.
Grate the cheddar cheese and put on a plate.
Slice ¼ of the lettuce into shreds.
Wipe out the frying pan, and add 1 tsp of the remaining oil. One at a time, heat the tortilla shells until they just begin to have brown spots—30 seconds on each side does it.
Assemble the tacos: place tortilla shell on a plate. Spread a small handful of grated cheese over HALF the shell. Then put two big spoonfuls of meat along the middle of the tortilla shell, slightly on the cheese side.
Fold the tortilla in half, then in half again, so you have a triangular wedge.
Stuff some shredded lettuce into the side of the tortilla that doesn't have meat in it.
Line the tortillas up on a platter and garnish with avocado slice. Enjoy!

 How to cut an avocado
Fish tacos
6 soft tortilla shells
1 cup guacamole
1 cup salsa
18 Basa Fish Strips (Western Family)
¼ crispy head of lettuce, shredded
Preheat the oven to 425 F.
Roast the basa fillets according to package directions, e.g. 12-14 minutes.
While you roast the fish, make the tortilla shells: in a frying pan, put a tsp of oil, and toast each tortilla shell for about 30 seconds on each side, so that brown spots just begin to appear and the shell looks a little toasted.
Line up the shells on a tray or on a clean surface. Spread 2 tbsp guacamole on half of each shell, and on top of that put 2 tbsp salsa.
When the fish strips are cooked, place three of them on one quarter of the shell area where you've spread the salsa.

Fish taco construction: guacamole, salsa on half the tortilla, fish strips on one quarter, before the folds.

Fold the tortilla in half (the plain half over the fish and salsa) and then fold again to make a wedge-shaped triangle.
Stuff shredded lettuce into the part of the shell that doesn't have fish inside.
Arrange on a platter and serve with more guacamole and more salsa.
Salad with corn, black beans, oranges and goat cheese
Lettuce, spinach or arugula
1 tin or two ears corn niblets
½ cup of black beans, rinsed well if tinned, under cold water, in a sieve
1 cup crumbled goat cheese or other sharp cheese
green onions or chives
1 tin mandarin oranges, drained
Yogurt vinaigrette or dressing to taste
Wash the lettuce thoroughly and dry in a towel or spinner.
Rinse the black beans under cold water in a sieve.
If using frozen corn: microwave ears of corn 4 minutes then cut off the kernels. If using tinned corn, rinse well under cold water.
Crumble the goat cheese and add to the lettuce with the corn and the beans.
Drain the tinned mandarin oranges and add them. (You can use ordinary fresh oranges—peel, then slice and quarter them.)
Mix all gently in a bowl.
Add dressing and mix gently.Yogurt vinaigrette: You can buy a creamy dressing, or mix up this one at home:
1 cup plain unsweetened yogurt
¼ cup olive oil
¼ cup white wine vinegar
1 tbsp lemon juice
1 tsp salt
SHOPPING LIST
salsa: either the deli version or Western Family Organic Salsa in a jar (again, buy to taste—mild, medium or hot.)
guacamole (at the deli counter)
1 head regular crispy lettuce
1 package of 12 regular tortillas—soft type, at the bakery counter
2 avocados, soft enough to feel like a muscle in your arm when you press it
For beef tacos
1 lb ground beef
1 lb medium cheddar cheese
Diana BBQ Sauce ("The Original")
1 onion
1 package taco seasoning (watch out and buy mild, medium or hot)
For fish tacos
1 package Western Family Basa Fish Strips, frozen
For salad
1 clam pack spring greens, or fresh spinach, or arugula (or use produce from the market)
1 tin corn niblets, or 2 ears frozen corn
1 small tin black beans
1 tin mandarin oranges, or two fresh oranges
1 small package goat cheese (or use feta, or any zingy cheese)
salad dressing of your choice, preferably creamy type with dill or poppy seeds—or make your own with plain yogurt, olive oil and vinegar.