by Leslie Savage
Maple Cinnamon Sticky Buns
Maple baked beans
Beer-baked ham
If T.S. Eliot had been lucky enough to live in Canada, surely he would not have written off April as "the cruelest month." April is —joyfully—maple syrup time. Even though the maple industry is lamenting the late spring in Eastern Canada, we can get maple syrup—possibly stockpiled, but who cares.
Sugaring off parties are sadly almost uncommon west of the Manitoba-Saskatchewan border, but for transplanted Easterners, the appearance of maple syrup in April heralds memories of tacky syrup on snow, wet boots, plates of maple-baked beans, and enough maple sugar to knock your socks off.
As a kid in a neighbourhood—in suburban Ottawa, no less—where we had a sugar shack, sugaring off meant evening treks with our dads through wet snow to collect the sap in tin pails, and hot work over the boiling pans as the sap reduced to syrup. As children, we mainly escaped the work part, and got to enjoy the inimitable treat of maple snow.
To go with the beans, what could be better than beer-baked ham with a mustardy crust: the beer flavour penetrates the ham only slightly (the alcohol evaporates) but enough to cut the sweetness of the beans with a good oaky tang. I use home-brew from Revelstoke U-Brew, which is our very favorite beer these days—a light ale, no preservatives, economical, and more than refreshing.
You can buy this year's maple syrup at La Baguette, $9.95 for 546 ml. Barely more per unit than the online cost of $210 if you order 24 cans from Bernard Maple Products.
Maple Cinnamon Sticky Buns
Our friend John provided the basis for this recipe, which we have jazzed up with maple syrup instead of brown sugar for the sauce that makes the "sticky."  If you want the bread machine version, let me know—it seems bests to provide the version that anyone can make at home, here.
This recipe is in parts: make the dough, and in separate bowls make the filling, the sugar drift for baking, and the glaze for pouring over the rolls when they come out of the oven.
Dough
3 ½ cups all-purpose or bread flour
1/3 cup sugar
1 tsp salt
2 packages regular or quick dry yeast
1 cup warm (not hot) milk—should feel just warm on the back of your wrist
¼ cup butter or margarine, soft
1 large egg, beaten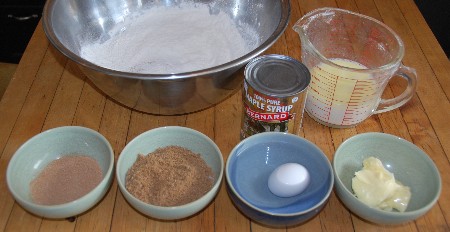 Filling
3 tbsp softened butter
1/3  cup brown sugar
1 tsp cornflour
1 tsp cinnamon
Sugar Drift Topping
2 tbsp white sugar
1 tbsp cinnamon
Maple Topping
½ cup butter or margarine
1 cup maple syrup
¼ cup corn syrup
Dough instructions:
Put the yeast into the warm milk with 1 tsp of the sugar, stir, and let it sit until softened and beginning to foam.
In the meantime, blend the flour, sugar, and salt. Melt the butter so that it is soft enough to blend with the beaten egg.
When the yeast seems to have dissolved, add the melted butter and egg and stir well.
Add these wet ingredients to the flour mixture in a large bowl and stir well or beat in an electric mixer for 1 minute.  When the dough seems well mixed, turn out onto a well-floured surface and knead for about 5 minutes, incorporating a little more flour if the dough seems too sticky to knead. Grease a large bowl and place the kneaded dough in it, turning so that the dough is also greased all over. Cover loosely and let sit in a warmish place (not your oven) until the dough has doubled in size—this may take 1 to 1 ½ hours.
Turn the dough out onto a flour surface again and using your hands and/or a rolling pin, flatten it into a rectangle about 10" X 15".  Now it's time for the filling.
Spread the filling butter all over the dough rectangle. Sprinkle and spread the sugar/cinnamon mix on top of the butter. If you are adding nuts or raisins, now's the time.
Roll the dough up into a log starting along the longer edge. Keep the roll tight and pinch the last edge of the roll to try to keep it together.
With a very sharp knife, slice the log into 12 pinwheels. They will be anywhere from 1 ½ to 2 inches thick.
Butter generously a 9" x 13" baking pan. Place the rolls in the pan; they will barely be touching. Cover loosely and let rise again in a warm place, about 30-50 minutes, until the rolls are crowding one another—they will double in size.
Sprinkle with the Sugar Drift mixture, and bake in a preheated 350 oven for 18 minutes.
Pour the maple syrup mixture over them and let cool somewhat before someone comes into the kitchen and devours the lot.
Variation: add raisins, currants, chopped pecans or walnuts; for plain cinnamon rolls, omit the maple syrup. Also, you could ice with a mixture of ½ cup soft butter and 2 cups icing sugar with a tsp vanilla.
Maple Baked Beans

If your experience with baked beans is tinned, homemade baked beans are a revelation. You have to start early, soaking the beans 24 hours in advance, although there is a short-cut (see below.) And you have to bake them all day in the oven or slow cooker. But what a treat. The texture of the beans is magical—they become delicate and almost translucent, and with bacon and maple flavouring, make a dish for anytime of the day that bears almost no resemblance at all to tinned beans.
2 cups navy (white) beans
6-8 thick slices of bacon, cut into small squares
1 large onion, chopped
1 tsp salt
2/3 cup maple syrup
1 tsp dry hot mustard powder or 2 tbsp Dijon mustard
4 cups water
The day before
Clean the beans by rinsing thoroughly in a sieve. Then put them into a large pot or bowl and add water to cover by 4 inches. Leave to soak for 24 hours in a coolish place.
QUICK SOAK method: put the cleaned beans in a large pot and add water to cover by 2 inches. Bring to a rapid boil and boil 2 minutes. Remove from the heat and let sit until cook. Drain. Use.
Cooking the beans
Once soaked, the beans go into your cooking pot—a Dutch oven, or a slow cook pot—with all the other ingredients.
Slow cooker: With a lid on, cook for 12 hours. Spoon off the extra liquid on top, including some of the bacon fat, and then put into a regular oven, uncovered, for 3 hours at 325 F, or until the liquid is mostly gone and a crust is beginning to form on top.
Regular oven: bake uncovered for 6-8 hours in a slow (250F) oven.
Beer-Baked Mustard Crusted Ham
This is a recipe for a small pre-cooked ham, suitable for 2-4 people. It could well as a small Easter dinner, but is so easy, and the leftovers so good, that it works for any day at all.
1 small ham
2 tbsp brown sugar
2 tbsp Dijon mustard
1 tbsp bread crumbs
1 can or bottle of beer
Score the top of the ham into 2 cm squares with a sharp knife.
Mix together the brown sugar, mustard and bread crumbs. Place them firmly on top of the ham.
Put the ham into a baking dish, not too large, and pour the beer into the dish. It shouldn't cover the ham but come up the sides about 1-2 inches.
Bake in a 350 oven for 2 hours. During the last hour, baste occasionally with the beer.
Serving ideas: scalloped or mashed potatoes, or yam fritters (see next week's column in this space!); roasted vegetables; corn on the cob; creamed peas or leeks; tender-crisp carrots, whole, and broccoli; or cauliflower and cheese.