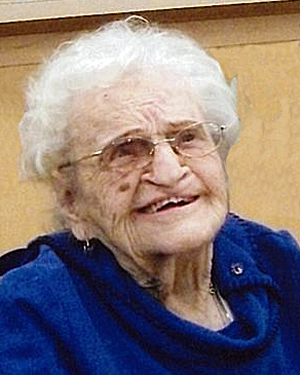 Thelma Butler Nilsen passed away at Mt. Cartier Court Extended Care, Revelstoke on Monday, April 14, 2014 after a long and interesting life, at the age of 108 years and 5 months. A Memorial Service will be held at the Revelstoke United Church on Saturday afternoon, April 19 at 2:30 pm with Reverend Ken Jones officiating. Memorial contributions may be made to the Mt. Cartier Court Foundation, Bag 5000, Revelstoke, B.C. V0E 2S0, in memory of Thelma.
Thelma was born in Vancouver, B.C. on November 23, 1905, and had been a resident of Revelstoke since 1920. She was instrumental in starting the Junior Women's Hospital Auxiliary and was very involved in the early ski days of Revelstoke. Many will remember her as a crew clerk for the Canadian Pacific Railway, where she worked for many years until her retirement. Her extended family was an important part of her life.
Thelma was predeceased by her husband Ivind, parents Oliver and Emma Harwood, sister Catherine Mary Ellen (Kaye) Rear, and good friend George Butler. She is survived by her niece Kelly (Alva) Gale, nephew Bill (Angela) Rear, all of Revelstoke, great nieces and nephews: Graham (Philomena) Gale, Jeremy (Shannon) Gale, Lindsay Gale (Mike Stone), Erika Rear (Shane Cowie) and Kelsey (Tim) Duncan; nieces Lola (Chuck) Gallicano, Olive (Armando) Lazzarotto, Joanne Johnston and nephew Ron Beruschi of Australia.
Messages of sympathy may be sent to Thelma's family by viewing her obituary at www.brandonbowersfuneralhome.com.
Cremation arrangements are in the care of Brandon Bowers Funeral Home.