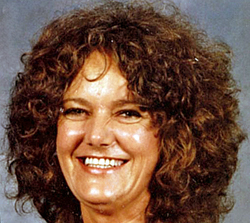 Rebecca Edith Jacobson was born November 17, 1941, in Prince Albert, Saskatchewan.  She passed away in Revelstoke on March 25, 2014, where she had resided for the past 36 years.  She is survived by her husband, Elwood (Al) Jacobson, daughter, Donna Kangas, granddaughters: Holly Ferguson, Jennifer Fusick and grandson Chris Fusick.
It is an honor to remember a woman who loved unconditionally, was truly generous to a fault and selfless to the end.  It is evident from her beautiful life that all the kindness she had ever shown found its way back to her.  A deeply devoted and cherished soul mate, loyal amazing mother, loving grandmother and best friend.  She left this world with style and grace.  We will see you in paradise.
There will be no formal funeral service by Rebecca's own request.
Cremation arrangements are in the care of Brandon Bowers Funeral Home, Revelstoke.