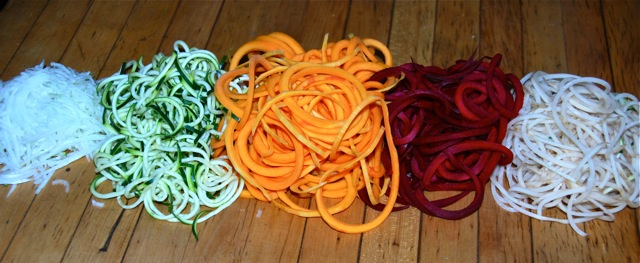 Lemon-vodka prawn pasta with zucchini spirals
Arugula, asparagus and spiraled beet and butternut squash salad
Spiral potato pancakes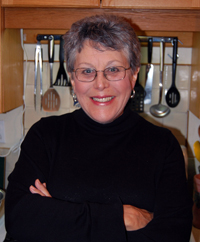 New kitchen gadget:  the spiralizer. This hand-driven appliance turns large chunks of veggies or fruit into slices or strands up to four feet long, creating a whole range of new possibilities for the place of veggies in healthy and low-calorie eating. Available at Chantilly Kitchen Bed and Bath.
Spiral veggies add a new presentation shape to the table.  Almost any veg that's at least 2 inches in diameter can be made into spirals, and spiralizing makes onion-slicing a breeze, for carmelized onions, for instance.
Spiralized zucchini, for instance, mixed with pasta, doubles the portion size with zero addition of carbs or calories. Spiralized beet matchsticks are the secret to the brown rice based Glory Bowl now popular in many deli cafés.  Matchstick potatoes make great tiny fries and can be pressed into a nest as a serving dish for stir-fries—the list of possible uses goes on and on. And spiralized potato makes the BEST latkes—lunch for two from one spud!
The remainder of the spiralized veggie is a cute little prong on a veg button—I save these and cut them up for soup.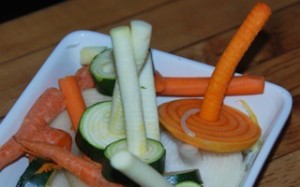 Lemon-Vodka Prawn Pasta with Zucchini Spirals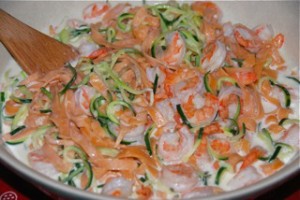 The inspiration for this is from Donna Hay's Simple Dinners. You can add spiralized veggie to just about any pasta recipe.
½ lb pink pasta—tomato flavoured
4 zucchini, dark green ones, about 5 inches each
1 cup whipping cream*
2 tbsp fresh lemon juice
1 tbsp lemon zest
2 tbsp vodka
fresh ground black pepper
1 cup grated parmesan cheese
1 lb prawns, cleaned and tailed
1 tbsp olive oil
1 tbsp butter
4 cloves garlic, finely minced
* or use my recipe from early March for low-calorie white sauce made with skim milk and skim ricotta cheese, whizzed in a blender with a tablespoon of parmesan.
Spiralize the zucchini using the attachment that makes long sphagetti-like strands—you will be amazed that some of these, from half a zucchini, are two feet long, plus. Set aside in a bowl and cover.
Cook the pasta in a huge pot of boiling water; two minutes before it is done al dente, add the zucchini spirals.
While the zucchini cooks with the pasta, heat the olive oil in skillet; add the minced garlic and the prawns. Sauté for two minutes or JUST until the prawns turn pink. Remove from heat.
When pasta is done, drain in a colander then put the pasta and zucchini back into the pot; add cream, lemon zest and juice, vodka and pepper.
Serve pasta into bowls and top with prawns; pass the grated parmesan and the black pepper.
Arugula and Asparagus Salad with Roasted Squash and Beetroot Spirals

1 medium clam pack mixed baby arugula and baby spinach
1 large beet
1 lb asparagus
½ a butternut squash
1 tbsp olive oil
½ cup crumbled goat feta
½ cup olive oil for dressing
2 tbsp star apple balsamic (or ordinary balsamic plus 1 tsp honey.)
Preheat oven to 425F.
Make spirals of the butternut squash and the beetroot. Toss these in 1 tbsp olive oil and arrange on oiled parchment paper on a cookie sheet. Roast for 10-20 minutes or until each spiral is tender; some will be crispy on the ends. Remove any charred bits. Cool.
Wash and dry the greens and arrange them on a large platter.
Break woody ends from asparagus stalks and discard. Steam the asparagus for 6 minutes or until tender-crisp. Drain and cool.
Arrange asparagus, squash and beetroot on the greens; top with crumbled feta.
Dressing: mix oil and vinegars and shake well in a screw-top jar. Let diners add their own dressing to their salad—some people may like nothing more than a squeeze of lemon and a little salt on theirs.
Potato latkes (pancakes)
Serves 2 for lunch or 4 as a side dish
1 large (18 oz. ) new, yellow or waxy white potato
1 onion
2 tbsp egg white or whites of 2 eggs
1 tbsp corn starch
4 tbsp safflower or canola oil
salt and pepper
Make spirals or half spirals of the potato using the fine blade. Put into a bowl and cover with cold water. Drain well in a colander, and squeeze the potato as dry as possible using a clean tea towel. IF the spirals are too long, chop them up into about 2 inch lengths.
Chop the onion finely, also on the spiral. Mix half the onion (save the rest for something else) into the potato.
Mix the egg white with the cornstarch in a bowl with a fork or small whisk. Add the chopped parsley. Now add the potato and onion and mix well.
Heat the oil in a frying pan. Use your hands to make a ball of potato slightly smaller than a tennis ball. Squeeze out most of the liquid. When the oil is hot, put the potato ball into the pan and flatten with the back of a spatula. Leave lots of room around each latke—I do 3 or 4 at a time in a 14 inch pan.
Cook over medium heat, adjusting so the pancakes don't burn, for about 7 minutes on each side. When you turn the pancakes over, press down with the back of the spatula to create a flat cohesive latke. The potato shreds will stick together as they cook, so gather any stray shreds into the pancake with the spatula. Sprinkle with salt and pepper to taste as they cook. When browned and crispy, remove and keep warm in a heated oven, on paper towels, while you cook the rest.
Serve with a dollop of sour cream—we used non-fat sour cream, although this is hardly a low-fat dish, given the frying. But REALLY delicious and satisfying.