Make Your Own Pizza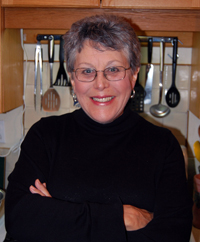 Pizza is just one menu item that Food Skills for Families, the upcoming workshop by Community Connections and the Canadian Diabetes Association, will tackle in a 6-part workshop starting March 5. It's a great series, with a focus on health, economics and good food.
The title of the workshops addresses families, but singles, couples and seniors could also benefit from this well-constructed curriculum in how to plan and cook nutritious meals.
Food Skills for Families focuses on the very basics of food prep—shopping and reading labels.  Read the sodium content of most tinned soups for a real shocker—many contain half the recommended adult salt intake of 1300 mg per day.  Pizza sauce sodium content varies according to maker–read the label before you buy!
Leading the workshops is Sandra Dryden, an experienced cook known in Revelstoke for her expertise in all matters house, who has honed her skills at the Canadian Diabetic Association's training program.
As a sample of the recipes included in this workshop series, here's an all-time favorite, whole wheat pizza. I've adjusted the measurements slightly, as the recipes in the Food Skills for Families cookbook were developed in Vancouver, where the water content of flour is higher than in Revelstoke; our altitude also makes a difference to the amount of yeast needed.
Whole Wheat Pizza Crust
1 cup whole wheat flour
1 cup all purpose flour
½ tsp sugar
¼ tsp salt
1 ½ tsp instant yeast
1 cup warm water (slightly warmer than body temp)
3 tbsp olive oil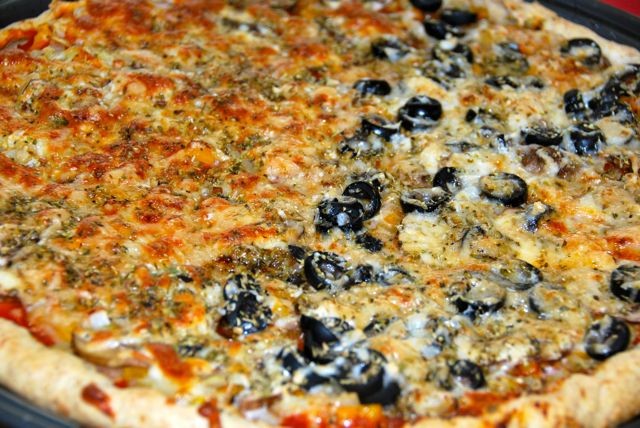 Mix dry ingredients together in a bowl. Add warm water and olive oil. Mix and knead lightly on a floured surface for 5-8 minutes, until the dough is smooth and elastic.
Preheat oven to 425 F.
Place dough a a large oiled bowl. Cover with a tea towel. Let stand in a warm spot (top of the fridge is good) until doubled in volume—about an hour.
Roll out dough with a rolling pin or an empty bottle, floured, and press into a 12 inch flat circle, or, for a thin crust pizza, as large a circle as you can without making holes in the dough.
Top with tomato or cream sauce, toppings of choice, mozzarella or other cheese, and some oregano. (See below.)
Bake at 425F for 15-25 minutes, or until edges are nice and brown and toppings are beginning to brown. Don't overbake or the crust will be too hard.
Slice and serve.
Equipment
You can use any cookie sheet, pie plate or baking tin as a base, or even put some clean bricks in the oven and bake the pizza right on top of those. (In this case you'll need a board sprinkled generously with cornmeal so the pizza will slide off it into the oven. A saucepan, a couple of bowls, a spoon and a knife, are other requirements.
In the nice-to-have category are a cheese grater (buying a block of mozza, (about $5) rather than pre-grated packaged cheese, (almost $9) will save you almost enough to buy the grater.
Toppings
You can make a 15" pizza for $5 using one small tin of pizza sauce, $1 worth of thinly sliced deli pepperoni salami (the packages of pepperoni are expensive) and a quarter of a pack of mozzarella cheese, grated. For topping ideas, see below. Don't put TOO much into one pizza—the simplest are sometimes the most delicious. Sliced fresh tomatoes, onion, oregano (buy bulk for least costly) and cheese do very well on their own. (Yes, you'll have to buy flour, yeast and 454 grams of cheese–enough flour for ten pizzas and cheese for four.)
• traditional Napolitano: pepperoni, tomato sauce, sliced peppers, mushrooms, mozza, parmesan, oregano
• Greek: spinach, onions, cream sauce, meatballs or sausage, feta cheese
• Northern Italian: cream sauce, fennel, onions, black olives, provolone, parmesan, fresh basil
• seafood: cream or tomato sauce, shrimp, scallops, whitefish squares, salmon, cream or goat cheese, dill
• all veggie: onions, mushrooms, garlic, spinach, butternut squash diced, golden beetroot, cauliflower slices, celery, leek, carrot matchsticks, peppers, salad turnip, fennel, eggplant, zucchini. Steam, roast, or sauté the veggies before adding them to the pizza. They should be tender-crisp. Add mozzarella and grated parmesan or romano, or aged cheddar.
• Mexican: tomato sauce with cumin added, meat, peppers sweet or hot according to taste, mild cheddar or jack cheese with jalapenos
• BBQ chicken pieces, peppers, mushrooms, medium cheddar.
Here's a variation on the trad pizza—it's cheerfully white and gold and pale green, with a low-cal sauce and fresh nutritious veggies and tofu.
Low-calorie white or pale green pizza sauce
2/3 cup 1% cottage cheese
¼ cup skim milk
for green sauce: handful of parsley—about a cup
1 tbsp grated parmesan cheese
2 cloves garlic
Whiz all the above in a blender until smooth.
This creamy sauce can be used instead of béchamel (white sauce made with flour, butter and milk) for any recipe, or can be used as a salad dressing base (add some lemon juice or white balsamic vinegar). It keeps in the fridge for 4-5 days.
Spread ½ cup of this sauce over a prepared pizza shell.
Add
1 bulb fennel, thinly sliced
½ large yam, diced and pan roasted in 1 tbsp olive oil until soft
½ block of firm tofu, diced, and also pan roasted until just beginning to brown
½ cup fresh basil leaves or 2 tbsp dried basil
1 cup grated mozzarella cheese
Top with a sprinkling of basil leaves and some dabs of the remaining sauce.
A surprisingly sharp-tasting pizza!
If you put the sauce on toast with steamed asparagus and a grating of parmesan, you have a basic 15-minute supper.
Economy vs convenience
Cooking from scratch is cheaper than buying prepared food. Of course, cook time increases. One solution is to cook from scratch when time allows, and stock up on pantry items for days when you need a quick fix: pizza sauce (this is almost as cheap as tomato paste) onions, cheese, some frozen pizza shells, frozen meatballs or pepperoni.
Pizza base options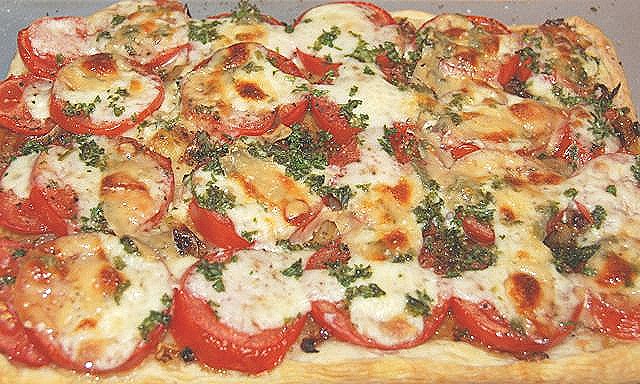 If you're not into making your own dough—certainly the cheapest way to go, with a 5 lb. bag of flour yielding about 10 pizzas so including yeast the cost of home-made might be $1.50—then use any of the following:
• soft flour or corn tortillas, packaged
• bread dough, frozen
• ready made pizza shells
• packaged frozen biscuit dough
• a pie shell
• nan, pita or other flatbread
• a piece of toasted bread (individual pizzas)